Founded by a mix of insurance and technology veterans, Branch claims to be the first company built to optimize the process of bundling home and auto insurance. The company aims to provide technology and community-driven insurance solutions that address many of the problems in insurance today: high costs, complicated policies, invasive enrollment, pain-in-the-neck claims, and marketing warfare.
Branch's strategy for fundamentally changing the insurance sector relies upon lowering premiums by eliminating the need for large marketing budgets. It accomplishes this through relationships with lenders, particularly online mortgage providers, which portray Branch as one of several insurance options — and the only all-digital one.
"Consumers are frustrated by escalating insurance costs resulting from antiquated business models and complex processes," said Steve Lekas, Branch Co-founder, and CEO. "We believe that by reintroducing the power of community through data and technology, we can lower the cost of insurance while restoring it to its original intent: a force for communal good."
Branch uses AI to return a firm premium offer in seconds instead of a laborious application process. By reaching consumers at the moment they are taking out a loan, Branch doesn't need expensive ad campaigns, so those costs don't get passed on in premiums.
"We see cost reduction as the most obvious opportunity and one of the most compelling reasons for a client to join Branch. As a simple example, Branch for the first time can give a consumer a price, not a quote or an estimate, but a price for home insurance or car insurance or bundled home and car insurance in seconds," ​​Lekas explained.
Branch also founded a 501(c)(3) called SafetyNest, which sets aside a small portion of premiums paid to be able to make grants to those who have suffered a loss and are unable to cover the cost of making them whole again, which could be due to being under-insured or uninsured or paying the premiums of those in need to ensure they remain covered.
The company has seen impressive growth: Lekas revealed in a recent interview that Branch has grown its annualized written premium by 1,300% in the last 12 months. Since announcing its $50 million financing almost precisely a year ago, the startup's headcount has grown from approximately 75 to well over 400 now.
This growth has led to a Series C financing round led by Weatherford Capital, a family-owned private investment firm. The round also included participation from existing and new backers such as Acrew, American Family Ventures, Anthemis, Gaingels, Greycroft, HSCM Ventures, Narya, SignalFire, and Tower IV. With this latest financing, Branch has raised $229.5 million in total funding since its 2017 inception.
"For too long, the insurance industry has been plagued by an overly expensive approach to customer acquisition, driving up the price of insurance. Branch's model is helping to ensure insurance is accessible for all," said David Seider, Principal at Weatherford Capital. "We are excited about this partnership and look forward to seeing Branch quickly and efficiently roll out nationwide affordable, high-quality insurance that all Americans deserve."
Here's a look at the pitch deck that was used to raise $147M in Series C funding for Branch:
Browse the exact example slides from the pitch deck that Branch used to secure $147 million in a round led by Weatherford Capital.
1. Cover Slide
According to the most recent data from the Census Bureau's Business Formation Statistics, about 5.4 million applications to start new businesses were filed in 2021, the highest of any year on record. Because many startups are looking for funding, investors are in high demand, making it difficult for founders to compete. The competition is so fierce that, according to one research, 70% of founders chased possible funders up to five times before receiving a response. As a result, founders must do everything possible to attract attention, and developing a memorable pitch deck is the first step.
The cover slide is the first thing investors see in pitch decks, and it should be used to grab their attention and set the tone for the rest of the pitch deck. A good cover slide will incorporate the company logo, an attractive image, and an eye-catching title. The cover slide for the Branch pitch deck is designed with these principles in mind, featuring contemporary graphics, a thought-provoking title, and a minimal company logo — all designed to match the company's brand guidelines.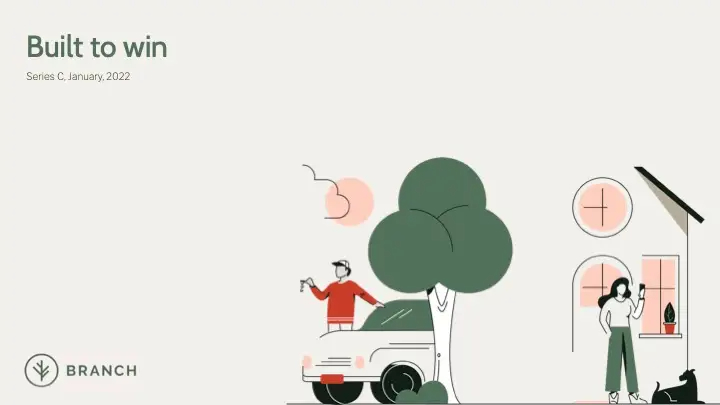 2. Market Slide
For investors, market size is crucial since it helps anticipate future returns on their investments. As an example, if your startup can capture 10% of the market, as impressive as it may be, it's not good enough for a big VC if your market is only $100 million market. "Unicorn" exits (companies valued over $1B) account for the majority of most VC's returns (plus offset the losses of the countless other portfolio companies that fail), which is why a large TAM is so important to investors.
Branch's market slide is an excellent example for founders looking to create pitch decks. Instead of throwing random market statistics around, the company gives the slide its own flavor: showing the "enormous" market size of $355 billion and highlighting that it's "one of the last large industries to be unmarked by technological innovation." This simple slide implies Branch is here to disrupt one of the biggest industries with its innovative technological solutions.
There are many ways to slice up and define the market, but you will have to find a way to describe it in a manner specific to your startup, rather than citing generic trends & metrics. A compelling market slide should be unique and purposeful to your startup.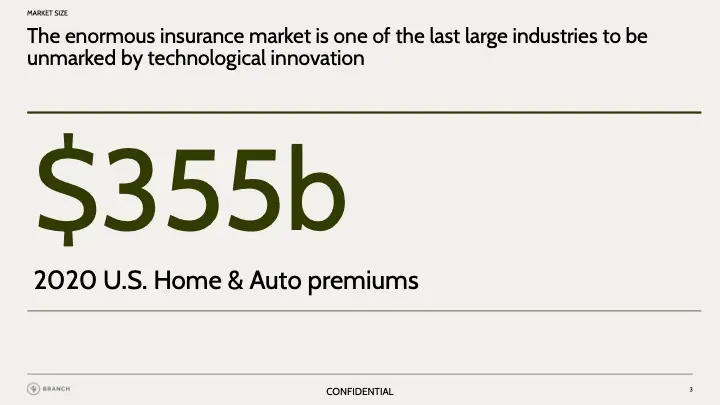 3. Traction Slide
Traction demonstrates to investors that your startup has found the product-market fit. It validates your business model and lowers the risk for investors. Traction becomes even more important in later stages, (as is true of Branch's Series C funding round). Generally speaking, companies that aim to obtain Series C funding are usually well-established, successful businesses in the more mature stages of development, with solid revenues and profits. Their core products or services should already generate strong demand in the marketplace, attracting a substantial customer base. All of this is demonstrated through the traction slide in the Branch pitch deck:
One of the primary purposes of any pitch deck, in general (and the traction slide, in particular), is to create FOMO (fear of missing out) among the investors. You want to assert that now is the best time to invest in your business. Branch's pitch deck achieves this by visualizing how they are "growing faster than any other insurance company" — as an investor looking ath their 1,934% YoY growth, you wouldn't want to miss this one. The slide includes a growth chart and Branch's comparison to the incumbent competitors such as GEICO and Allstate.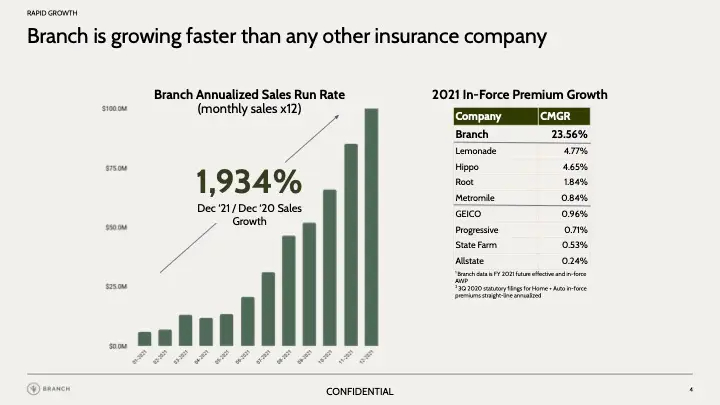 How-to create your own pitch deck like Branch
We hope you learned something from the Branch pitch deck, and that you are able to use these insights for your own business.  If you'd like to, you can bookmark it at bestpitchdeck.com/branch
Although it probably goes without saying that having a successful business (outside just their pitch deck) was integral to their success, it is critical for any startup to ensure your vision is portrayed properly. That's where crafting the perfect pitch deck comes essential: 
You might find our other resources on how-to create a pitch deck helpful, or benefit from using one of our expert-designed templates:
Our team has helped create decks that have closed over $100M+ in deals & funding for leading startups and even VC firms. You can leverage this experience and get a jumpstart on your pitch with one of our easy-to-use presentation templates, one-pagers, or financial models.
Every pitch requires a unique approach tailored to its audience. Our team of experts has created pitch decks for different industries, as well as funding stages: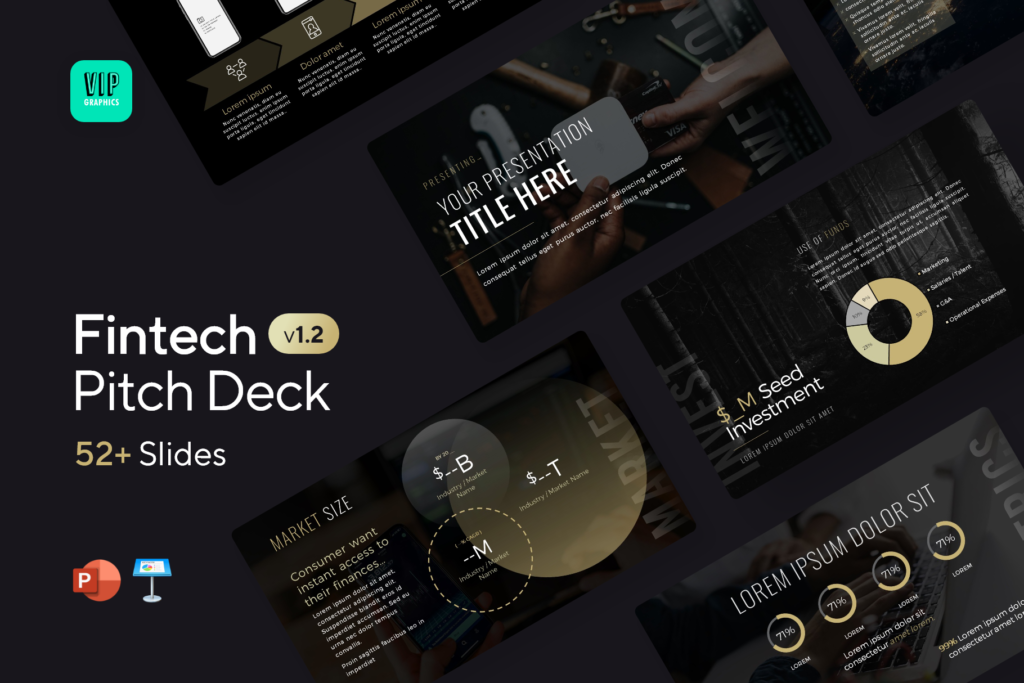 Fintech Pitch Deck Template — You might be interested in the popular Fintech Pitch Deck designed by our team of experts at VIP.graphics: cutting-edge slides based on decks that closed millions in deals & funding. This template is perfect for any business in the tech space: from software to services.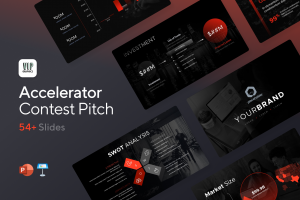 Accelerator Pitch Deck Template — The Accelerator Pitch Deck template was crafted for early-stage founders seeking to win funding &/or investment from pitch contests, accelerators, incubators, and angels or VC firms. Winning a pitch contest or being accepted to a prominent accelerator program requires a unique strategic approach to an investor pitch presentation.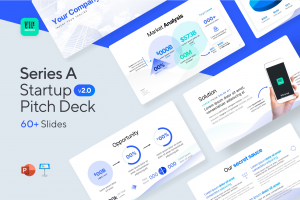 Series A Pitch Deck Template — A pitch deck template for startups and founders raising funding: Smart, actionable slides that work. This is a pitch deck template built specifically for startups, entrepreneurs and founders raising their first seed or Series A round of institutional capital.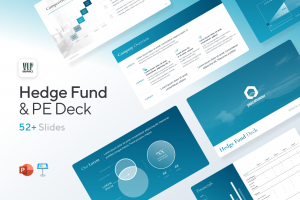 Mergers & Acquisitions Pitch Deck Template — Perfect Pitch Deck™ is a template crafted for later-stage businesses entering more sophisticated discussions such as mergers & acquisitions (M&A), late-stage investment (Series C+), or other partnerships & financing opportunities. Our team of experts created this presentation to empower founders to present with confidence to investment banks, private equity (PE) groups, and/or hedge funds (and vice versa).