In an already competitive business world, the rapid expansion of social eCommerce has further complicated today's multi-touchpoint retail market, putting additional strain on enterprises already under pressure to optimize dozens of channels across multiple regulatory frameworks. As a result, a new strategy known as product-to-consumer (P2C) is emerging.
Productsup is one of the leading P2C platforms which is helping its long list of well-known clients – including the likes of IKEA, RedBubble, and ALDI – refine their sales strategies by putting the most important information in the same place. The company works with over 900 global brands, retailers, marketplaces, and service providers to help them gain control over their omnichannel strategy in order to gain market share.
"Technology is supposed to make our lives easier but when companies adapted their tech stack for the evolving eCommerce landscape, they ended up with a Frankenstein model of solutions, creating a tech stack that isn't scalable on a global level," says Vincent Peters, CEO of Productsup. "How and where you reach your customers changes every day, and it's become a lost cause for marketers to keep up manually. With a P2C platform, companies can eliminate 50 different categories of applications inside their organization and gain control over the experience they deliver to customers."
More than two trillion products are processed by the company every month, helping its customers tell a consistent product story across more than 2,500 marketing and selling channels, ultimately resulting in higher conversions and shorter time-to-market.
"We'd previously been working on technology only used by a few people, but since then the P2C category has taken flight and we have caused a serious shift within the market. As more people are waking up to our message, it is time to turbo-charge the growth," Peters said in an interview. "Our strong numbers back us up in this case as they have proven the cadence is picking up, people are talking and customers are adopting our strategy – and we've had fantastic results. The early stages were all about proving our technology worked and it was adaptable, and now the market is waking up."
Due to its unique enterprise capabilities, Productsup has experienced an acceleration in its business: growing net new ARR by over 60% in the past year. The company currently boasts a gross revenue retention rate of 90% and a net revenue retention rate of 120%. Within the previous year, Productsup has also increased its staff from 150 to 300 individuals, enlarged its leadership team, and been acknowledged as a leader in P2C management by Constellation Research.
This growth has led to a Series B funding round led by Bregal Milestone with existing investor Nordwind Capital following on. According to Peters, this new capital will drive product development, merger and acquisition opportunities, partner network expansion, and spearhead new market entry plans. Productsup has previously raised $20 million in March of last year.
"This investment substantiates the effort and work we have put forth into transforming Productsup to be the product-consumer category leader," said Christian Plangger, managing partner at Nordwind Capital.
Bregal Milestone managing partner Cyrus Shey concluded, "Our decision to partner with Productsup was based on its long-term, sustainable trajectory as a mission-critical enterprise-grade commerce solution."
Here's a look at the pitch deck that was used to raise $70M in Series B funding for Productsup:
Browse the exact example slides from the pitch deck that Productsup used to secure $70 million in a round led by Bregal Milestone.
1. Team Slide
The biggest asset for almost any startup is the human beings behind it: the team (especially the founders) will make or break the success of the business. At the end of the day, VCs and angels are investing in the team as much as the idea or the product. Most savvy investors recognize that execution is far more crucial than the idea itself, as the company will be faced with several challenges (and opportunities) along the way.
The purpose of the team slide is to assure investors you have the right people to lead the business. In particular, investors are interested in both the experience and relevance. Ariel Poler, a serial entrepreneur and prolific angel investor puts it this way:
"Obviously you want to feel that the team has done things that make you feel they will do this well. But you should explain why they are the right team to do this specific project. It's less about what credentials and whether or not they have the generic skills to do this, but why they are relevant to this particular business."
From a design perspective, creating an effective team slide is quite simple: you need only include a headshot, name, title, and experience.
Productsup's team has more than a century of combined experience and the heading focuses on this fact by highlighting the word "Experience". In addition to all the usual components (role, experience, and so on), the team slide uses logos of marquee companies to reaffirm their team has notable prior experiences.
2. Traction Slide
Serial investor and the CEO of AngelList, Naval Ravikant, defines traction as 'Quantitative evidence of market demand'. In layman's terms, traction is evidence that someone wants your product. Traction demonstrates to investors that they are not simply investing in an idea and that there is a market for your product. The greater the traction, the lesser the risk for the investor and, subsequently, the better your chances of obtaining finance. There are various ways to show traction including profitability, revenues, active users, registered users, engagement, partnerships/clients, traffic, and more.
Productsup's client base includes Fortune 500 companies such as HP, Walmart, Facebook, and Tiktok; the slide prominently features the logos of these companies. Additionally, the slide incorporates annual recurring revenue growth figures and regulatory certificates. One noteworthy aspect of the Productsup pitch deck's traction slide is the clever way the logo was incorporated into the design, alluding to exponential growth.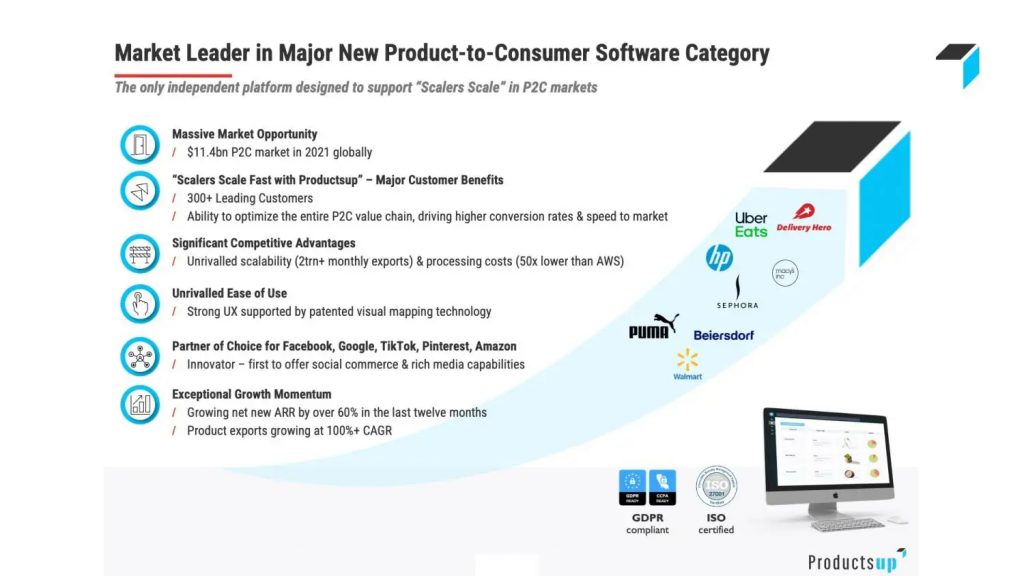 3. Market Slide
For investors, the importance of one metric trumps all others: return on their investment. All other things aside, investors are seeking to make money by funding your startup, and if the market isn't big enough for them to make a substantial return, the risk might not be worth it. It can be argued that great startups create their own markets: In their early pitch deck, Uber estimated the total addressable market for cabs was "$4.2B annually and growing." Uber now has a market cap of approximately $65B. Nonetheless, you must provide investors with current market information in order for them to gauge risk and make investment decisions.
The Productsup pitch deck's market slide highlights the "Significant P2C market opportunity" and is very transparent in explaining how the company is calculating the $11.4 billion total addressable market (TAM). Using an easy-to-understand graphic, the slide delineates numerous market segments and their proportional contributions to the total P2C management industry.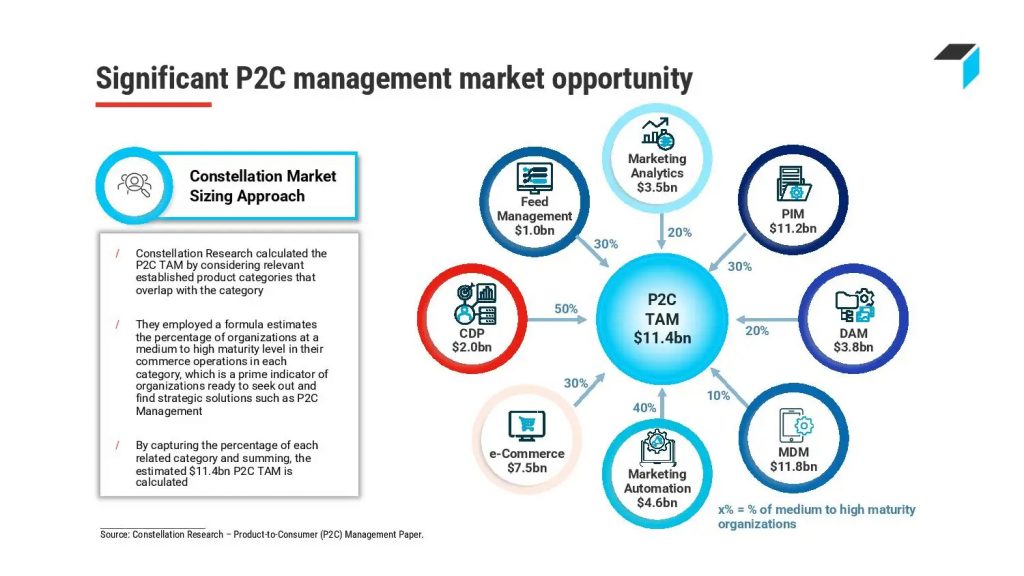 How-to create your own pitch deck like Productsup
We hope you learned something from the Productsup pitch deck, and that you are able to use these insights for your own business.  If you'd like to, you can bookmark it at bestpitchdeck.com/productsup
Although it probably goes without saying that having a successful business (outside just their pitch deck) was integral to their success, it is critical for any startup to ensure your vision is portrayed properly. That's where crafting the perfect pitch deck comes essential: 
You might find our other resources on how-to create a pitch deck helpful, or benefit from using one of our expert-designed templates:
Our team has helped create decks that have closed over $100M+ in deals & funding for leading startups and even VC firms. You can leverage this experience and get a jumpstart on your pitch with one of our easy-to-use presentation templates, one-pagers, or financial models.
Every pitch requires a unique approach tailored to its audience. Our team of experts has created pitch decks for different industries, as well as funding stages: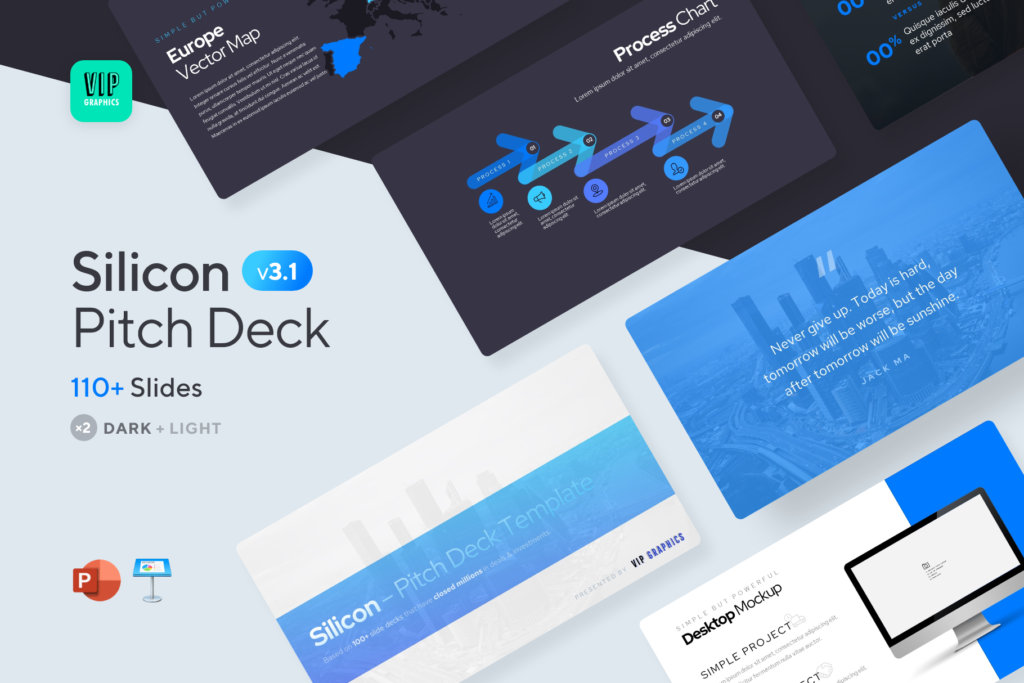 Silicon – Pitch Deck Template — You might be interested in the popular Silicon Pitch Deck designed by our team of experts at VIP.graphics: cutting-edge slides based on decks that closed millions in deals & funding. This template is perfect for any business in the tech space: from software to services.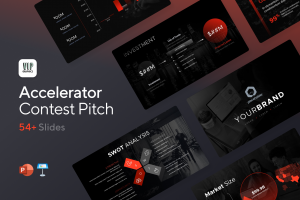 Accelerator Pitch Deck Template — The Accelerator Pitch Deck template was crafted for early-stage founders seeking to win funding &/or investment from pitch contests, accelerators, incubators, and angels or VC firms. Winning a pitch contest or being accepted to a prominent accelerator program requires a unique strategic approach to an investor pitch presentation.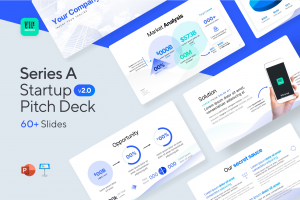 Series A Pitch Deck Template — A pitch deck template for startups and founders raising funding: Smart, actionable slides that work. This is a pitch deck template built specifically for startups, entrepreneurs and founders raising their first seed or Series A round of institutional capital.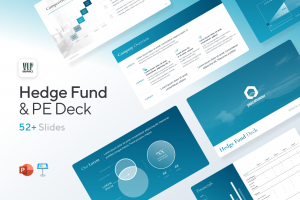 Mergers & Acquisitions Pitch Deck Template — Perfect Pitch Deck™ is a template crafted for later-stage businesses entering more sophisticated discussions such as mergers & acquisitions (M&A), late-stage investment (Series C+), or other partnerships & financing opportunities. Our team of experts created this presentation to empower founders to present with confidence to investment banks, private equity (PE) groups, and/or hedge funds (and vice versa).