Osso VR is a virtual reality platform led by UCLA and Harvard-trained orthopedic surgeon Justin Barad, MD. It allows surgeons to perform procedures in a virtual operating room all without touching a patient. The company ​​combines its software with Oculus Rift headsets to train surgeons and medical students. 
"Our mission is to improve outcomes, increase the adoption of higher value technologies and techniques and democratize access to surgical education for everyone everywhere. And so my vision for Osso VR, […] is that every single procedure that you could possibly do is simulated in this universal simulation platform called Osso. And that it is also a central repository for all proficiency data in healthcare." Dr. Barad said in an interview.
According to Barad, Osso VR's technology improved surgical performance by 230% in a peer-reviewed study. The startup began with an emphasis on orthopedic surgery but now has more than 120 modules covering more than ten disciplines. These modules cover a wide range of specialties, including orthopedics, spine, interventional cardiology, and general surgery.
Osso VR is offered in over 20 countries, and all of the top five orthopedic medical device firms use it as a VR training partner. English, Japanese, Spanish, German, and French are among the languages supported by the platform. In addition, more than 20 global hospital residency programs use it, including Brown University, Hospital for Special Surgery, Johns Hopkins University, and Rush University.
"If you're going in for…something like a joint replacement, or some commonly performed sports procedure, I would say the likelihood would be quite high in a couple of years, I would say 60% to 80%, that that healthcare professional has at least done some VR training for the relevant procedure," Dr. Barad said. "And then if you go a few years out, what's interesting is this incoming generation they're not just excited about this technology, they expect it."
Over the past two years, the healthcare industry has been one of the largest adopters of mixed reality technologies. According to CB Insights research, virtual reality in the healthcare market is expected to grow at a CAGR of 39.98% and reach the value of $42.8B by 2028. As such, investors are showing a lot of interest in healthcare tech companies such as Osso and the startup announced a $66M Series C funding round in March led by Oak HC/FT, with participation from Tiger Global Management, GSR Ventures, SignalFire, and Kaiser Permanente Ventures. The round brought Osso VR's total funding to $109 million.
"The future at Osso VR is incredibly bright. Each step of the way, we've stayed true to our mission to democratize healthcare and seen the results that our platform brings to surgical training and assessment," said Justin Barad, MD, CEO and Co-Founder of Osso VR. "This round of investment supports the next step of our journey to provide access to all healthcare professionals. I couldn't be more excited to take this next step with such a talented, passionate team."
"Oak HC/FT is continuously seeking new opportunities to support innovative companies impacting the healthcare industry in a meaningful way," said Vig Chandramouli, Partner at Oak HC/FT. "Osso VR is well positioned to become the gold standard for all surgical training and continuing education, and we're thrilled to work alongside this impassioned and committed team."
Here's a look at the pitch deck that was used to raise $66M in a Series C round led by Oak HC/FT.
Browse the exact example slides from the pitch deck that Osso VR used to raise $66M.
1. Cover Slide
First impressions count — so failing to put int he effort to make a good first impression (or the cover slide, in case of the pitch deck) can send the wrong signal. First impressions are so crucial because they last well beyond that initial moment, due to a phenomenon called the primacy effect. The primacy effect is a cognitive bias and refers to an individual's tendency to better remember the first piece of information they encounter than the information they receive later on.
A well-thought-out and considerate design is the key to creating a memorable cover slide. The slide should be catchy yet simple, precise but also effective. A good rule of thumb is that your audience should be able to understand what your business is about even if they miss the rest of the presentation. Avoid industry lingo, vague statements (e.g. disrupting the hospitality industry), and overused comparisons (e.g. Google for hospitals).
The Osso pitch deck's cover slide is a good example of a well-crafted opening slide. It explains the business in one sentence, has a catchy tagline, shows the product images, has the company logo, and unifies everything with company branding.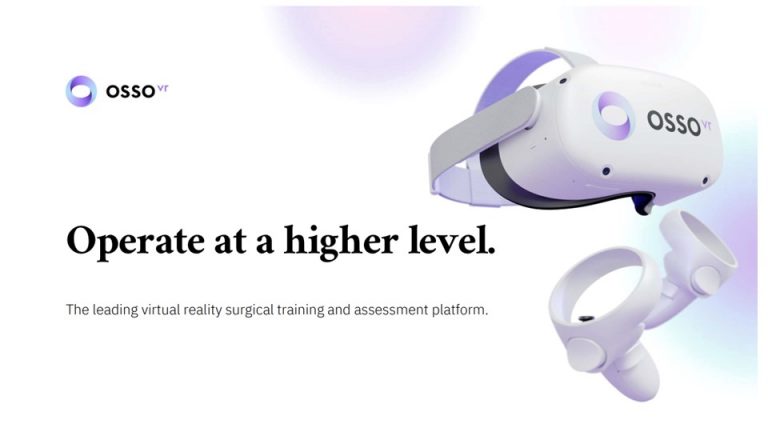 2. Traction Slide
One of the key factors that determines the success of any startup (and a handsome return for investors) is the ever-elusive product-market fit (PMF). To put it another way, PMF means whether your solution is the right one for the problem at hand? A company that has obtained traction will be more likely to obtain venture financing and with better terms, because they have demonstrated PMF: traction and validation are what separate an idea from an investable business opportunity. 
Traction becomes even more important at the later stages of funding rounds (Series C in the case of Osso VR) when companies are looking to spread their wings and expand. Nonetheless, regardless of stage, evidence of traction is critical information to add to your pitch deck to reinforce your proposal and bolster your investment case.
Osso VR has gained some serious traction and their pitch deck makes full use of this: with a simple grid of logos, highlighting some of the most powerful & well-recognized names in the healthcare world. The slide also touches on the fact that 20+ global hospital residency programs and 12+ medical device companies use the platform.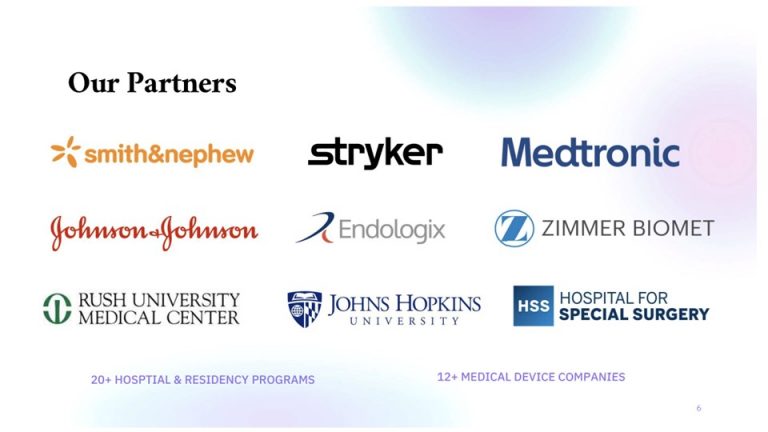 3. Problem Slide
The essence of the problem slide is to explain why your startup needs to exist. Typically, the problem slide will show the way things are being done traditionally, how they (negatively) impact the users, and the severity of the issue. The problem slide should explain the pain point(s) you address in the simplest terms possible. For consumer concepts, talk about user needs; for enterprise ideas, show an understanding of your customer's pain. If you cannot convince an investor there's something broke, they will not be interested in a solution.
The Osso pitch deck's concise problem slide uses only 9 words to highlight the challenges medical students face in their surgical training journey. Instead of using medical jargon, the slide explains the issue in such a way that is understandable for investors outside the medical profession. The deck also continues to show the severity of the issue by presenting the global surgeries number and the cost of healthcare. Overall, the problem section of the pitch deck does a great job of explaining the issue and its importance.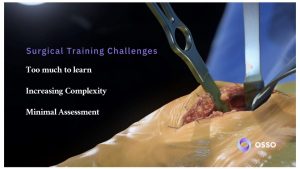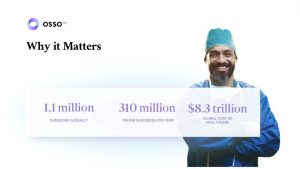 How-to create your own pitch deck like Osso VR
We hope you learned something from the Osso VR pitch deck, and that you are able to use these insights for your own business.  If you'd like to, you can bookmark it at bestpitchdeck.com/osso
Although it probably goes without saying that having a successful business (outside just their pitch deck) was integral to their success, it is critical for any startup to ensure your vision is portrayed properly. That's where crafting the perfect pitch deck comes essential: 
You might find our other resources on how-to create a pitch deck helpful, or benefit from using one of our expert-designed templates:
Our team has helped create decks that have closed over $100M+ in deals & funding for leading startups and even VC firms. You can leverage this experience and get a jumpstart on your pitch with one of our easy-to-use presentation templates, one-pagers, or financial models.
Every pitch requires a unique approach tailored to its audience. Our team of experts has created pitch decks for different industries, as well as funding stages: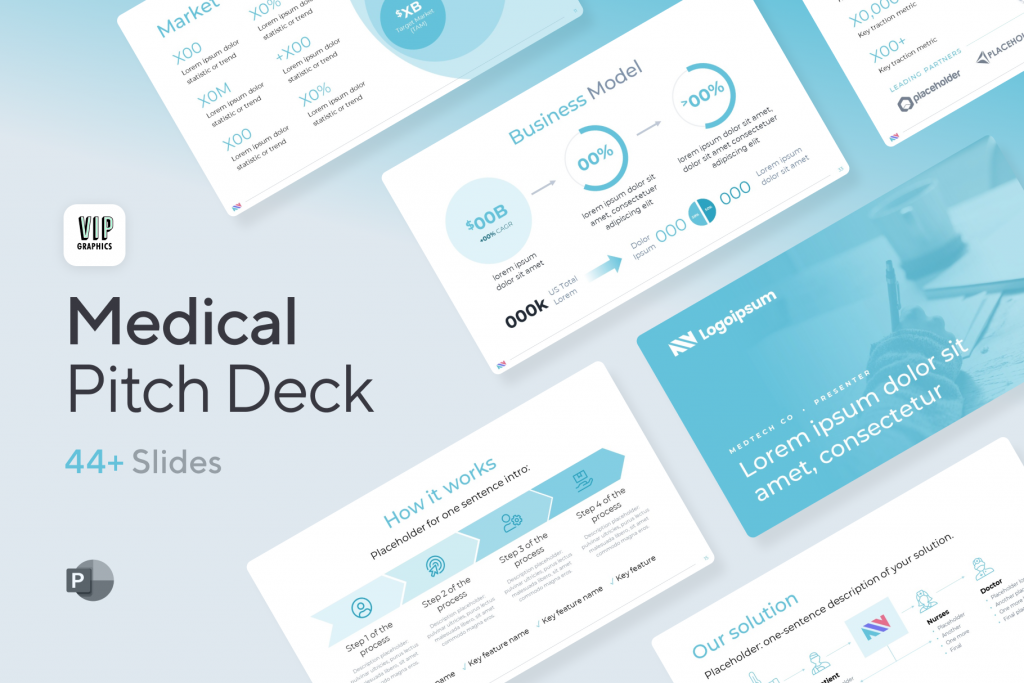 Medical Pitch Deck — You might be interested in the popular Healthcare & Medicine Pitch Deck designed by our team of experts at VIP.graphics: cutting-edge slides based on decks that closed millions in deals & funding. This template is perfect for startups in the health & wellbeing space: from mental health & family tech apps, to alternative medicine, supplements, marketplaces & more!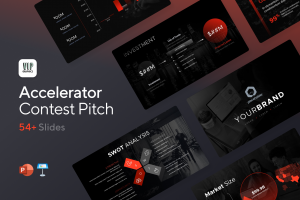 Accelerator Pitch Deck Template — The Accelerator Pitch Deck template was crafted for early-stage founders seeking to win funding &/or investment from pitch contests, accelerators, incubators, and angels or VC firms. Winning a pitch contest or being accepted to a prominent accelerator program requires a unique strategic approach to an investor pitch presentation.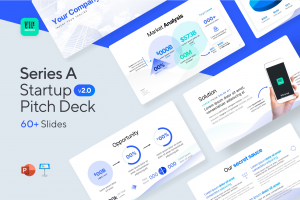 Series A Pitch Deck Template — A pitch deck template for startups and founders raising funding: Smart, actionable slides that work. This is a pitch deck template built specifically for startups, entrepreneurs and founders raising their first seed or Series A round of institutional capital.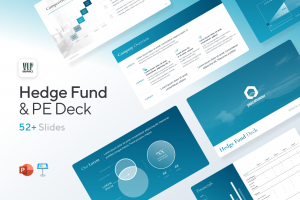 Mergers & Acquisitions Pitch Deck Template — Perfect Pitch Deck™ is a template crafted for later-stage businesses entering more sophisticated discussions such as mergers & acquisitions (M&A), late-stage investment (Series C+), or other partnerships & financing opportunities. Our team of experts created this presentation to empower founders to present with confidence to investment banks, private equity (PE) groups, and/or hedge funds (and vice versa).