Careerist, an ed-tech startup that assists in the training and recruitment of workers for tech jobs raised $8 million in a Series A round with this 12-slide pitch deck. The platform is intended to assist people in quickly adapting to the in-demand job requirements of the modern workforce without the burden of massive student loans.
The startup (which was in Y-Combinator's spring 2021 cohort) offers data-driven education products that help people develop the skills and knowledge they need to succeed in the tech industry. The platform provides advanced training in areas such as coding, software development, and data analysis. For example, according to the website, a systems engineering course at Careerist runs around $3,500 upfront or $7,000 in installments. This is significantly less than the cost of similar courses at other institutions, such as Flatiron School, which charges over $17,000 for a boot camp in the same field. Careerist also offer a 100% money-back guarantee if you don't land a job in tech within one year of graduation.
"You don't need computer science, you don't need programming languages, you don't need a technical background," said co-founder Max Glubochansky.
In addition to education, the platform uses machine learning-powered job applications to automate the job search and application process. It also includes a fintech component that provides background checks, contract automation, and collections to ensure a smooth and efficient hiring process for both employers and job seekers.
Careerist's innovative platform is the result of years of hard work and dedication from its co-founder and CEO, Ivan Tsybaev. Tsybaev's passion for computer science started at a young age when he attended coding competitions in high school in Russia. However, due to financial constraints, he was unable to pursue his dream of becoming a software developer and instead became a financial analyst after graduating from Sakhalin State University. Despite this, Tsybaev never forgot his passion for technology and kept it alive through his various entrepreneurial ventures.
In 2009, Tsybaev moved to the United States to pursue his dream of becoming a tech entrepreneur. He founded several successful companies, including TruckerPath, an online trucking marketplace (raised over $30M from VC and sold it to a public company), before deciding to team up with his colleagues Max Gusakov and Max Glubochansky to launch Careerist.
With a 250% year-over-year growth rate (despite the economic downturn and hiring freezes), Careerist recorded nearly $2 million in monthly revenue last year. Additionally, their graduates have already secured jobs at Google, Apple, Amazon, Slack, Salesforce, Samsung, Verizon, AT&T, Snap, Facebook, and others.
This growth has led to a Series A round that includes a range of investors, including Cathexis Ventures, Xploration Capital, Cold Start Ventures, Grand Park Ventures, Y Combinator, and angel investors like James Herbert from First Republic Bank and Mikita Mikado, the founder of PandaDoc.
Browse the exact example slides from the pitch deck that Careerist used to raise $8M in a Series A round led by Cathexis Ventures and Xploration Capital.
1. Problem Slide
Investors are most interested in startups that solve an impactful and widespread issue. The problem slide is the first step in providing investors with a clear and compelling reason to invest in your business. By clearly articulating the problem, why it matters, and how it impacts people's lives, you can demonstrate the value of your solution and the potential for your startup's success in the market. Remember, the goal is to create an emotional connection with the investor, allowing them to relate with the pain points your target audience is facing.
The Careerist pitch deck's problem slide does an amazing job of creating an emotional bridge between the "junior and mid-level job seekers" and the investors. The straightforward and concise bullet points effectively communicate the issues faced by job seekers. From attention-grabbing headlines to the simple design (paired with a contextually-appropriate image), this problem slide offers a worthy example to follow.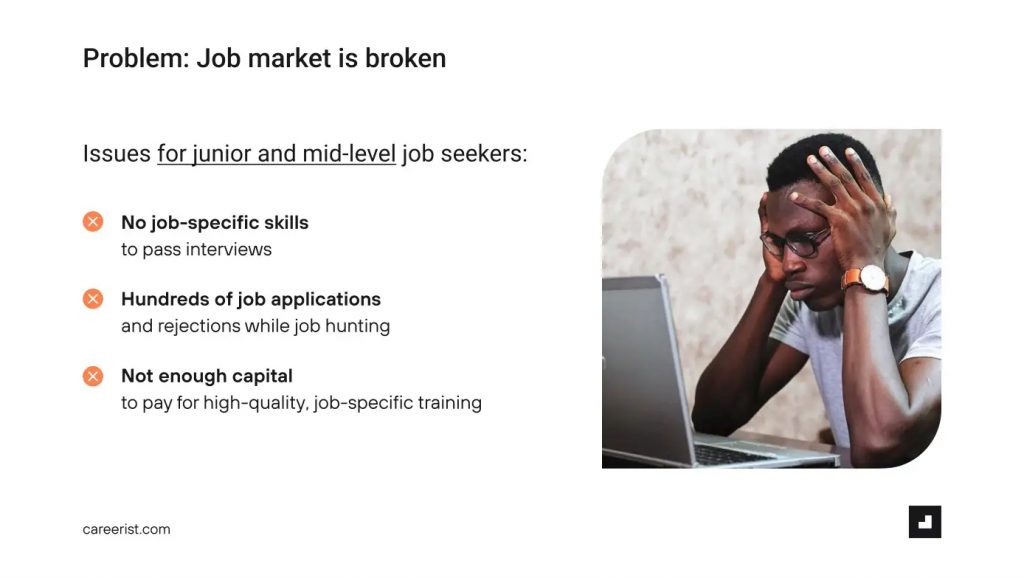 2. Solution Slide
A great problem slide like the above should be accompanied by a fitting solution slide that provides a clear and concise picture of how your startup addresses the challenges outlined in the previous slide. It's worth noting that the solution slide shouldn't discuss the features of the product but instead focus on the bigger picture. (read more about the difference between the product & solution slide).
The Careerist pitch deck's solution slide is simple yet effective, with minimal text and a clean design that immediately catches the audience's attention. The slide effectively conveys the value proposition of the Careerist by highlighting its unique combination of "ed-tech" and "fintech" solutions. The slide is also clever in guiding the reader's eye: the platform is broken down into three key components, which read left-to-right and highlight the key value proposition for each. Overall, this solution slide does a great job of presenting the solution and making it easier to digest for investors.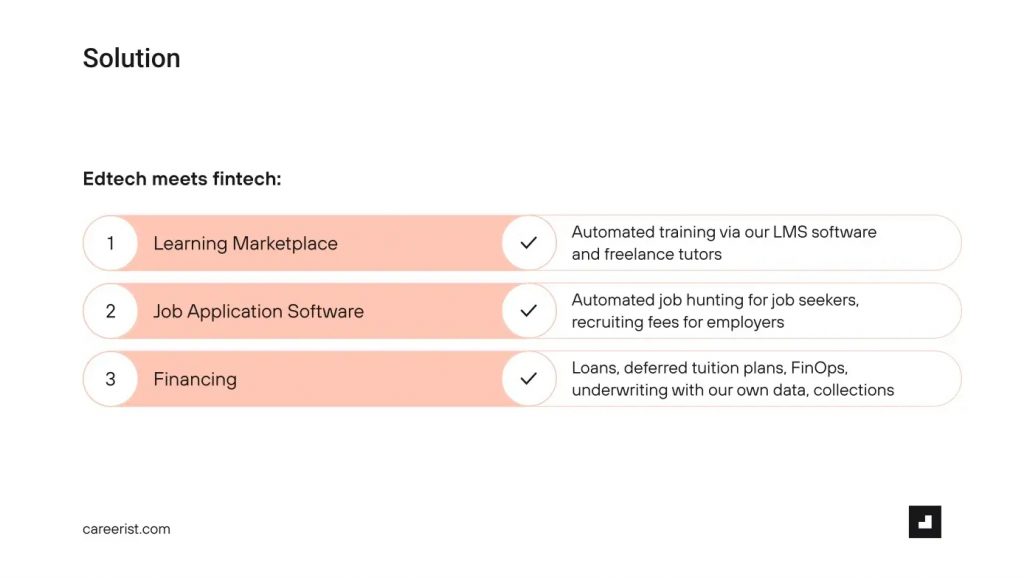 3. Traction Slides
The traction slide is a vital component of any pitch deck (especially for startups at an early stage), as it provides investors with valuable information about the startup's progress and potential for growth. The traction slide typically includes metrics such as user acquisition, revenue, and engagement, as well as any relevant milestones or achievements. By demonstrating a strong track record of growth and engagement, the traction slide can help convince investors to invest in the startup and become a part of its success story.
The Careerist pitch deck's traction slides effectively conveyi the startup's progress and potential for growth. The revenue growth slide highlights the startup's financial performance, providing investors with a clear picture of the company's revenue generation and accelerating growth rate. Meanwhile, the slide showcasing the companies that have hired their students is a powerful testament to the effectiveness of the Careerist's platform, highlighting the value that it provides to both students and employers.
Both slides follow the theme of attention-grabbing headlines and a minimalist design that is consistent throughout the pitch deck. By presenting key information in a clear and concise manner, the Careerist's traction slides allow investors to quickly grasp the startup's growth potential and success to-date.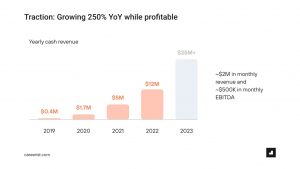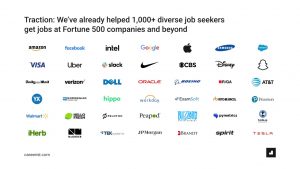 How-to create your own pitch deck like Careerist
We hope you learned something from the Careerist pitch deck, and that you are able to use these insights for your own business.  If you'd like to, you can bookmark it at bestpitchdeck.com/careerist
Although it probably goes without saying that having a successful business (outside just their pitch deck) was integral to their success, it is critical for any startup to ensure your vision is portrayed properly. That's where crafting the perfect pitch deck comes essential: 
You might find our other resources on how-to create a pitch deck helpful, or benefit from using one of our expert-designed templates:
Our team has helped create decks that have closed over $100M+ in deals & funding for leading startups and even VC firms. You can leverage this experience and get a jumpstart on your pitch with one of our easy-to-use presentation templates, one-pagers, or financial models.
Every pitch requires a unique approach tailored to its audience. Our team of experts has created pitch decks for different industries, as well as funding stages: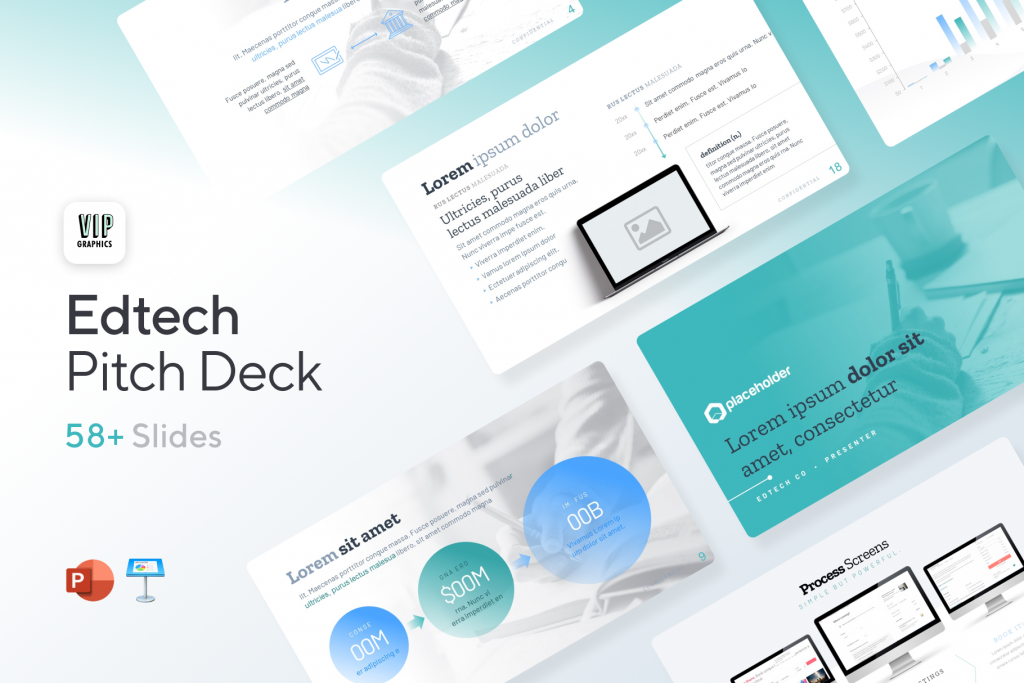 EdTech Pitch Deck — You might be interested in the popular EdTech Pitch Deck Template designed by our team of experts at VIP.graphics: This pitch deck template is built specifically for ed-tech startups revolutionizing the education sector.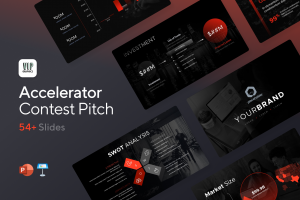 Accelerator Pitch Deck Template — The Accelerator Pitch Deck template was crafted for early-stage founders seeking to win funding &/or investment from pitch contests, accelerators, incubators, and angels or VC firms. Winning a pitch contest or being accepted to a prominent accelerator program requires a unique strategic approach to an investor pitch presentation.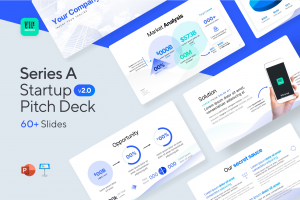 Series A Pitch Deck Template — A pitch deck template for startups and founders raising funding: Smart, actionable slides that work. This is a pitch deck template built specifically for startups, entrepreneurs and founders raising their first seed or Series A round of institutional capital.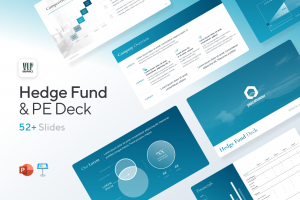 Mergers & Acquisitions Pitch Deck Template — Perfect Pitch Deck™ is a template crafted for later-stage businesses entering more sophisticated discussions such as mergers & acquisitions (M&A), late-stage investment (Series C+), or other partnerships & financing opportunities. Our team of experts created this presentation to empower founders to present with confidence to investment banks, private equity (PE) groups, and/or hedge funds (and vice versa).