Queer and transgender patients face significant challenges in accessing quality healthcare. According to a 2018 study, the majority of transgender patients (70%) face discrimination when seeking care, leading nearly half (44%) to avoid the emergency department when they require acute care.
FOLX Health, a healthcare services provider based in Boston, MA, is attempting to make medical care more accessible to the LGBTQIA+ community. FOLX Health, founded by CEO Douillet Guzmán in December 2020, offers end-to-end virtual primary care, HRT, PrEP, care navigation, content, and community via a diverse network of queer and trans-specialized providers.
"This is a community that has for far too long suffered at the hands of a system that is, in the best-case scenario, indifferent, and in the worst-case scenario, abusive," Douillet Guzmán, CEO of FOLX Health said. "This is an opportunity to provide individualized care for this community. Our biggest challenge is how do we take our vision for the future of health and make it work in the context of a system that is hard to shift and modernize."
FOLX Health began by providing transgender patients with hormone replacement therapy. Later, the company added sexual health services as well as a virtual care platform for general health and primary care.
"What telehealth does is really two things for us. One is, for folks who may not feel safe in many cases, going into settings where there's not a good understanding of the community, gives them an alternative space to access care. Then, two, telehealth is immensely more scalable from a resource perspective so we can cover an entire state and people don't have to drive two or three hours to get to the one source of competent care in their state," Breitenstein, Founder and Executive Chair of FOLX said in an interview.
In addition to the virtual care platform, the company is entering the employer market with the launch of an enterprise solution. Grindr, planful, and the Ali Forney Center, among other technology companies, are currently providing gender-affirming, sexual, and reproductive health care to their employees through FOLX Health. FOLX Health will also launch a community platform with LGBTQIA+ health resources, peer groups, live events, learning programmes, and community-based content.
FOLX announced a $4.4 million seed when it emerged from stealth in late 2020, followed by a $25 million Series A in February 2021. The company has now announced a $30 million series B round to offer and expand new services to clients, including behavioral health and mental health services.
7wireVentures led this latest round with additional investments coming from previous partners Bessemer Venture Partners, Define Ventures, and Polaris Partners, as well as new partner Foresite Capital.
"Now more than ever, there is a clear need to expand access to inclusive health services for the millions of Americans who identify as LGBTQIA+," Shapiro of 7wireVentures said in a statement. "By combining a network of clinicians highly attuned to the needs of the LGBTQIA+ community with convenient access to affirming content and peer connections, FOLX Health has established a new standard of queer and trans care for its members."
Here's a look at the pitch deck that was used to raise $30M in a Series B round led by 7wireVentures.
Browse the exact example slides from the pitch deck that FOLX Health used to raise $30M.
1. Value Proposition Slides
According to a CB Insights study, lack of market need is the most common reason for the failure of a startup (accounting for 42% of failures). In another independent analysis of 80 interviews of failed startups, 34% of the companies pointed toward lack of market need as the major reason for failure. The data is clear: having no value proposition (or in simpler words: a product that nobody wants) is the biggest reason of failure for startups. 
The value proposition slide in FOLX health's pitch deck visualizes the company's offerings and why LGBTQIA+ people are excited to do business with them. The design incorporates large, easy-to-read fonts that are complemented by powerful visuals. One way to improve these slides is to reduce the amount of text and standardize text sizing & spacing — one of the most common mistakes that founders make is including too much text in their pitch deck.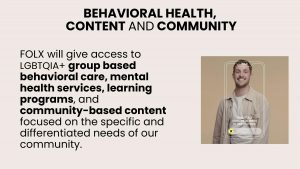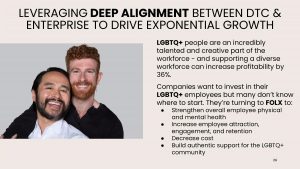 2. Opportunity Slides
The opportunity slide can be considered an extension of the value proposition slide. While the former discusses the value that the company can provide, the latter discusses whether there is a demand for that type of value. This can be accomplished by explaining what has changed to create the opportunity, whether it is a behavioral change, technological advancement, or cultural evolution.
The opportunity slide in FOLX health's pitch deck claims that "the LGBTQ+ population is large and growing." This behavioral shift toward acknowledging and accepting one's own and others' gender identity is creating a healthcare market ideal for FOLX's offering. The opportunity section slides, in contrast to the rest of the pitch deck, are light on text. The opportunity is well explained through the use of statistics, facts, and a breakdown of various socio-demographics.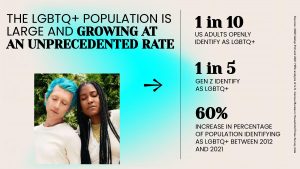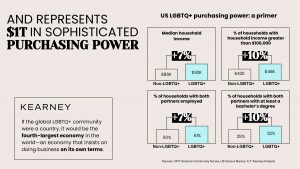 3. Competitive Advantage Slides
Every startup has competition — even those pioneering new categories, like FOLX. Every year, up to 100 million new businesses open their doors around the world. Someone has almost certainly thought of or tried something at least remotely related to your new idea. In fact, a complete lack of competition may be a bad sign because it may indicate a lack of market need, which is a far more serious risk. Pertaining to its importance, competition is very important for investors, and they are sure to ask questions designed to surface your business' vulnerabilities — particularly how you will beat the competition. The prudent approach is to be proactive and explain the factors that give you a competitive advantage over your competitors.
The FOLX Health pitch deck's competition slides are devised to highlight the key ingredients (strong brand, robust network, and brand loyalty) that give FOLX an advantage over the competition in the trans and queer healthcare space — which includes many innovative startups including MyTransHealth, QSPACES, and others. The use of large headings and bold text gives the slides a clean, modern look. Incorporating statistics and numbers also lend credibility to the claims made by the competitive advantage slides.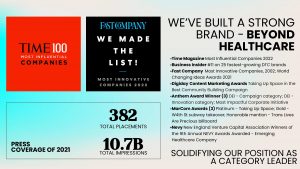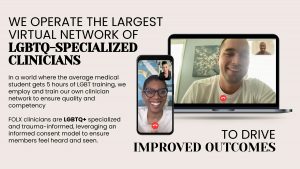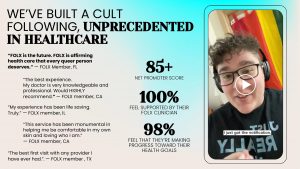 How-to create your own pitch deck like FOLX Health
We hope you learned something from the FOLX Health pitch deck, and that you are able to use these insights for your own business.  If you'd like to, you can bookmark it at bestpitchdeck.com/folx-health
Although it probably goes without saying that having a successful business (outside just their pitch deck) was integral to their success, it is critical for any startup to ensure your vision is portrayed properly. That's where crafting the perfect pitch deck comes essential: 
You might find our other resources on how-to create a pitch deck helpful, or benefit from using one of our expert-designed templates:
Our team has helped create decks that have closed over $100M+ in deals & funding for leading startups and even VC firms. You can leverage this experience and get a jumpstart on your pitch with one of our easy-to-use presentation templates, one-pagers, or financial models.
Every pitch requires a unique approach tailored to its audience. Our team of experts has created pitch decks for different industries, as well as funding stages: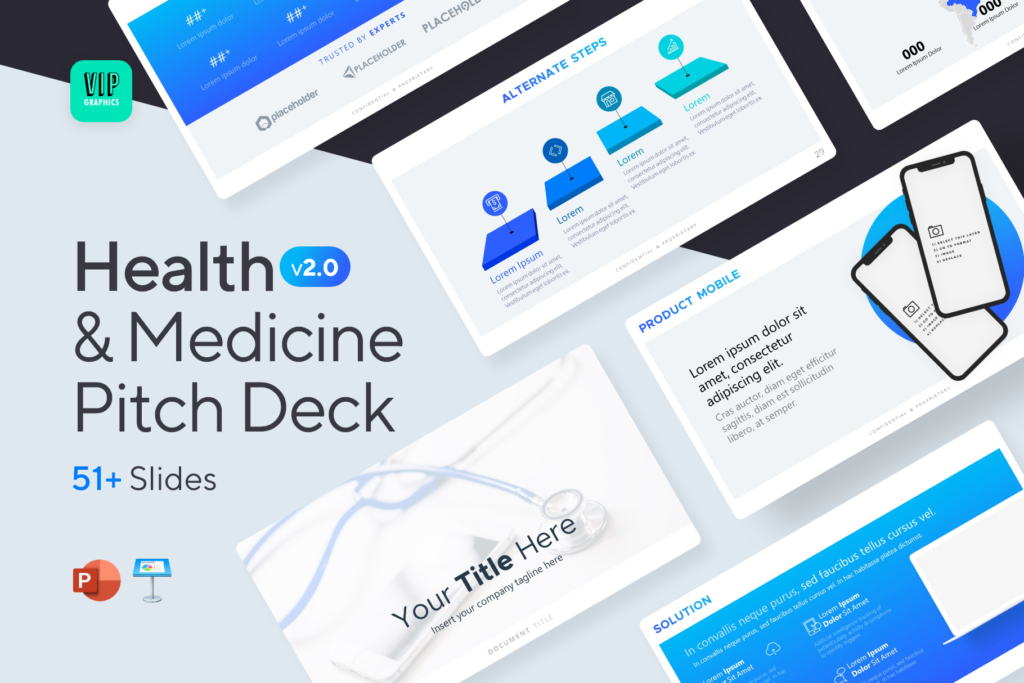 Health & Medicine Pitch Deck — You might be interested in the popular Healthcare Pitch Deck Template designed by our team of experts at VIP.graphics: cutting-edge slides based on decks that closed millions in deals & funding. This template is perfect for any business in the Health and Medicine space.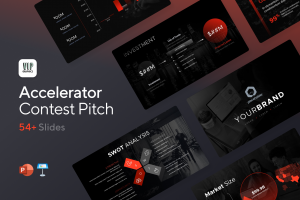 Accelerator Pitch Deck Template — The Accelerator Pitch Deck template was crafted for early-stage founders seeking to win funding &/or investment from pitch contests, accelerators, incubators, and angels or VC firms. Winning a pitch contest or being accepted to a prominent accelerator program requires a unique strategic approach to an investor pitch presentation.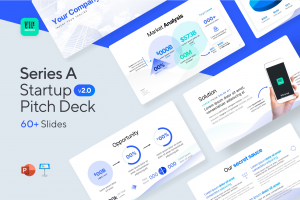 Series A Pitch Deck Template — A pitch deck template for startups and founders raising funding: Smart, actionable slides that work. This is a pitch deck template built specifically for startups, entrepreneurs and founders raising their first seed or Series A round of institutional capital.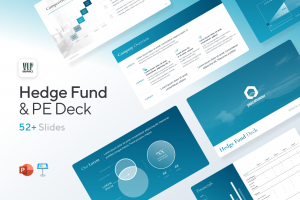 Mergers & Acquisitions Pitch Deck Template — Perfect Pitch Deck™ is a template crafted for later-stage businesses entering more sophisticated discussions such as mergers & acquisitions (M&A), late-stage investment (Series C+), or other partnerships & financing opportunities. Our team of experts created this presentation to empower founders to present with confidence to investment banks, private equity (PE) groups, and/or hedge funds (and vice versa).