Despite looming inflation, hiking interest rates, tech stocks flagging in public markets, and layoffs at top unicorns, this week still came with a flurry of announcements of large venture capital rounds for companies ranging from payments to employee perks.
Here's an inside look at the pitch decks that were used to raise over $175M in funding announced this week:
Canary Technologies pitch deck: $30M Series B for YC-backed hospitality software
Canary Technologies is seeking to disrupt the way hotels manage guests digitally. The Y-Combinator backed company provides hotels and other lodging properties with technology solutions to increase productivity and manage bookings.
Canary was founded in 2017 by childhood friends Harman Singh Narula and SJ Sawhney, as a mobile-based platform to handle hotel operations such as check-in, post-booking communication and check-out.
Today, their hospitality management platform is used by global brands such as Radisson Hotels, Best Western, and Four Seasons. It claims to help improve the guest experience while also boosting revenue though upselling.
Browse the exact example slides from the pitch deck that Canary Technologies used to raise a $30 million in a Series B round led by Shopify-backer Insight Partners, with investors including F-Prime Capital, Y Combinator, Thayer Ventures, Commerce Ventures and others participating:
Alation pitch deck: $123M Series E, backed by Databricks
Alation is credited with pioneering the data catalog product category with its signature software, the Alation Data Catalog, which helps enterprises in organizing and consolidating their data.
Alation was founded in 2012 by co-founders, Satyen Sangani and Aaron Kalb, and launched its first product in 2015 to give data consumers an easy way to search for enterprise data with natural language. The company recently reported it passed the $100M annual recurring revenue (ARR) mark.
Browse the exact example slides from the pitch deck that Alation used to raise a $123 million Series E round at $1.7B valuation led by Thoma Bravo, joined by strategic investor Databricks, as well as Sanabil Investments, and Costanoa Ventures.
Kyra pitch deck: $15M Series A for creator brand partnerships
Kyra offers creators a self-serve platform to find new deals where they will be paid on a performance basis. Kyra's offerings includes Kyra Originals, a network of TikTok channels producing original content; Kyra Profile, a Gen Z creator incubator program; and Kyra Studios, a production studio that creates social content on behalf of brands.
Kyra, founded in 2017, has worked with brands like Nike, Converse, Calvin Klein, and Amazon Prime Video; reportedly working with roughly 5,000 creators across branded campaigns over the past year.
Browse the exact example slides from the pitch deck that helped Kyra secure a $15 million Series A round led by Bonnier Ventures with participation from LionTree, Firstminute Capital, Guardian Media Group Ventures, and Torch Capital, among others:
Humming Homes pitch deck: $7.9M for home maintenance startup
Humming Homes, launched in October 2020, aims to create personalized, seasonal maintenance programs for homeowners for as little as $250 a month.
Humming Homes was founded in 2020 by Adeel Mallick, Kyle Carnes, and serial Entrepreneur, Kevin Ryan (Founder & CEO of AlleyCorp). As of May 2022, their services are live in 2 regions (Tri-state, South Florida) across 5 markets, and scaling towards national expansion with this new funding.
In August, Humming Homes closed on $2.3 million in seed funding from investors led by Harlem Capital, an extension of an earlier $5.6 million round from Greycroft, Thrive Capital, and other investors.
Browse the exact example slides from the pitch deck that helped Humming Homes secure $7.9 million in seed funding:
How-to create your own pitch deck
We hope you learned something from these pitch deck examples, and that you are able to use these insights for your own business.  If you'd like to, you can browse more examples of successful investor presentations at bestpitchdeck.com — the world's largest library of pitch decks. 
Although it probably goes without saying that having a successful business (outside just their pitch deck) was integral to the success of these companies, it is critical for any startup to ensure your vision is portrayed properly. That's where crafting the perfect pitch deck comes essential: 
You might find our other resources on how-to create a pitch deck helpful, or benefit from using one of our expert-designed templates:
Our team has helped create decks that have closed over $100M+ in deals & funding for leading startups and even VC firms. You can leverage this experience and get a jumpstart on your pitch with one of our easy-to-use presentation templates, one-pagers, or financial models.
Every pitch requires a unique approach tailored to its audience. Our team of experts has created pitch decks for different industries, as well as funding stages: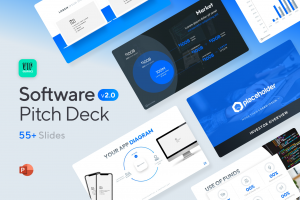 Software & SaaS Pitch Deck — You might be interested in the popular SaaS Pitch Deck designed by our team at VIP.graphics: cutting-edge slides based on decks that closed millions in deals & investments for orgs of all sizes: from high-growth startups to Fortune 100 corporations. This easy-to-customize template for PowerPoint or Keynote offers you ready-made elements & all the essential slides to close deals faster!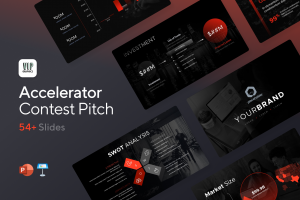 Accelerator Pitch Deck Template — The Accelerator Pitch Deck template was crafted for early-stage founders seeking to win funding &/or investment from pitch contests, accelerators, incubators, and angels or VC firms. Winning a pitch contest or being accepted to a prominent accelerator program requires a unique strategic approach to an investor pitch presentation.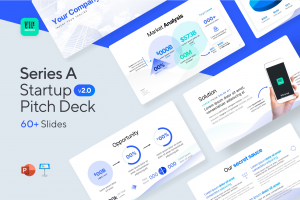 Series A Pitch Deck Template — A pitch deck template for startups and founders raising funding: Smart, actionable slides that work. This is a pitch deck template built specifically for startups, entrepreneurs and founders raising their first seed or Series A round of institutional capital.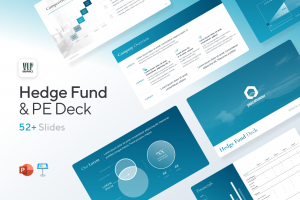 Mergers & Acquisitions Pitch Deck Template — Perfect Pitch Deck™ is a template crafted for later-stage businesses entering more sophisticated discussions such as mergers & acquisitions (M&A), late-stage investment (Series C+), or other partnerships & financing opportunities. Our team of experts created this presentation to empower founders to present with confidence to investment banks, private equity (PE) groups, and/or hedge funds (and vice versa).
Alternatively, feel free to browse our growing selection of pitch decks tailored for specific industries and businesses.