World Fund is Europe's largest climate tech venture capital firm, investing in firms with the highest climate performance potential, with a goal of reducing CO2 emissions by at least 100 megatonnes per year in areas such as energy, transportation, construction, food, and agriculture. The fund intends to raise $365 million and typically invests in early and growth-stage companies.
Christian Kroll (founder of Ecosia — tree-planting search engine), in collaboration with other sustainability investors and climate tech leaders including Daria Saharova, Danijel Višević, Craig Douglas, and Tim Schumacher, founded the VC fund and which has more than 60 investors to-date. World Fund has invested in various sustainability-related startups including Freshflow, Space Forge, Juicy Marbles, QOA, and TreeCard.
"We invest only in technologies that are able to save at least 100 megatons of CO2 or other greenhouse gas emissions [per year], so it really has to have a huge impact on the climate. Only then we invest," Danijel Višević, partner at World Fund explained. "We have a team of scientists that is doing the due diligence, so physicists, chemists, chemical engineers and mathematicians, and mechanical engineers,"
Most recently, PwC Germany has been named as an anchor LP by World Fund. World Fund did not specify the extent of PwC's investment, but it should come ahead of the fund's first closing, which is scheduled to take place soon.
"Despite the market sell-off, we have not seen any slowdown in LP or investor interest over the last three months or so," Višević said "If anything, LP interest is stronger than ever as LPs are looking for safe harbors in the economic storm, and climate tech is most certainly a safe harbor,"
According to Carbon180, an environmentally focused think tank, the climate problem presents a significant potential for businesses, with the market for carbon innovation valued at $5.91 trillion per year. Global climate technology VC investments, according to a report by promotion agency London & Partners and VC analysis business Dealroom.co, have risen from $6.6 billion in 2016 to $32.3 billion in 2021 — an almost fivefold increase.
Rainer Kroker, a partner at PwC Germany, said, "The climate crisis is one of the most pressing problems facing humanity today. […] we believe that climate tech, specifically those startups that are focused on cutting carbon emissions, has a fundamental role to play in this and that is why we invested in the World Fund."
World Fund has set a goal of saving 2 gigatonnes of carbon by 2040, which is equal to 4% of total global emissions. PwC has also pledged to reduce greenhouse-gas emissions to zero by 2030.
Here's a look at the pitch deck that was used to add PwC as an anchor LP by World Fund:
Browse the exact example slides from the pitch deck that World Fund used to add PwC as anchor LP.
1. Cover Slide
Often overlooked, a cover slide is one of the most important slides in any pitch deck as it helps to capture the attention of your audience right from the get-go. Think of it as the 'bait' that you are using to "hook" the crowd. Investors see hundreds of pitch decks every year, so it's critical to grab their attention quickly (and hold their interest as your presentation progresses). Another purpose of the cover slide is to "decode" the structure of the information presented in the pitch deck. Human brains are hard-wired to look for and use patterns. The cover slide let the audience get a sense for the tone of the pitch deck, so their brains are not working overtime to recognize themes & motifs in subsequent slides.
World Fund's cover slide immediately captivates readers by highlighting the "€5tr climate tech opportunity". In addition to the fund logo, the slide includes a vibrant nature background scene, hinting toward the environmentally-conscious efforts of the fund.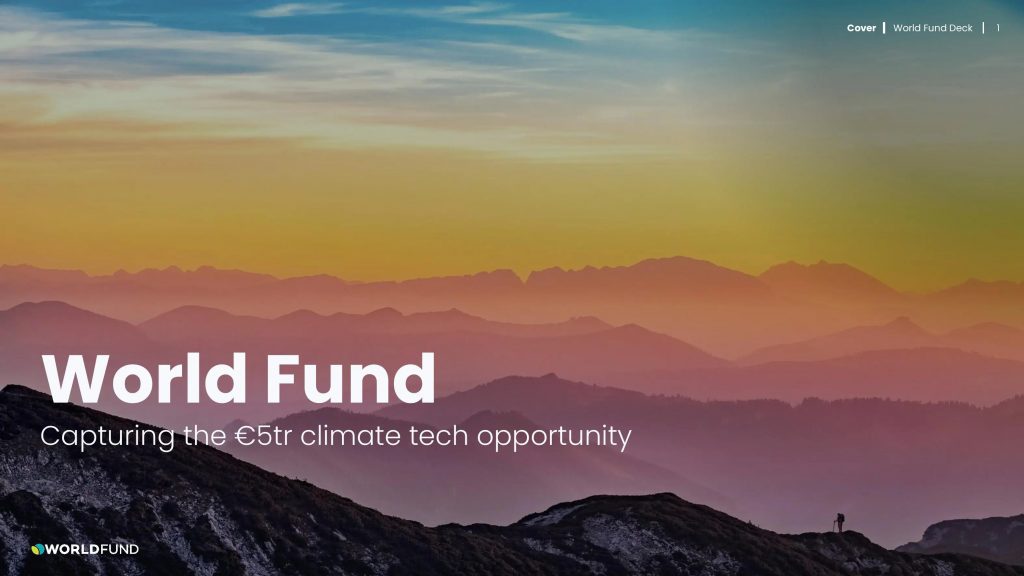 2. Team Slide
The importance of the team (especially the C-suite) for any business cannot be overstated. Legendary Silicon Valley angel investor, Ron Conway, famously stated that the people are the most crucial aspect of any startup, even more significant than the market itself — because the idea may change, but the people are the basis of the company. Great teams, regardless of circumstance, have the ability to adapt to the most difficult of situations.
The World Fund team is comprised of famous sustainability investors and climate tech leaders, and the team slide explains the team's "competitive edge." The presentation does an excellent job of highlighting their qualifications, including a brief description of their area of expertise, a bullet list of accomplishments, and logos of firms with which they have worked.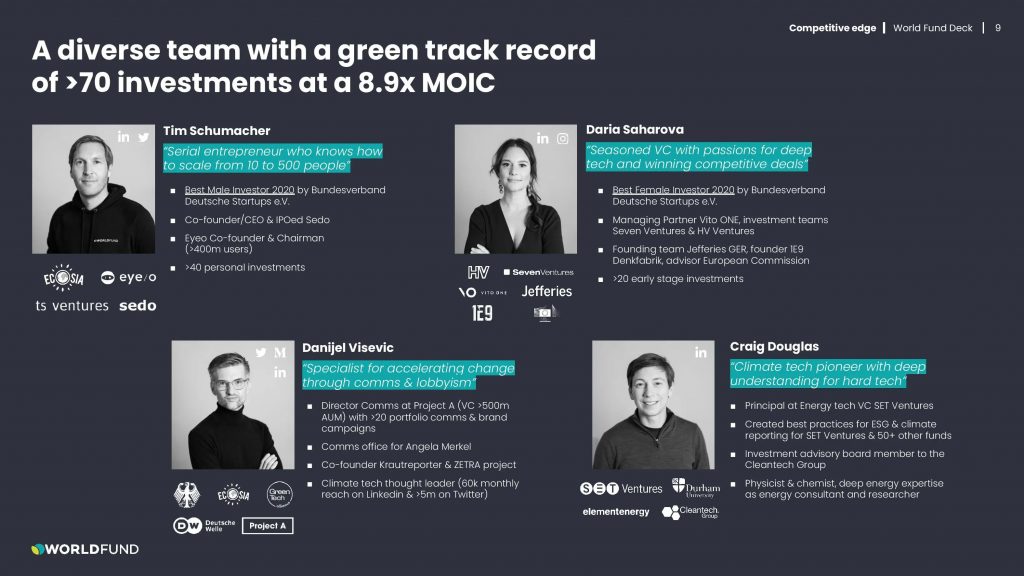 3. Portfolio Slide
The World Fund pitch deck's portfolio slide is comparable to a startup pitch deck's traction slide. Traction indicates that the product has found a market and has a viable business model, and it acts as 'evidence' of the product's legitimacy. Similarly, a VC fund's portfolio presentation demonstrates that the people involved know what they're doing, and their success to-date
Instead of listing the firms in which World Fund has invested, the presentation employs a graph to provide much more information, such as the fundraising stage, type of technology, and, of course, the startup name. The heading of the slide succinctly summarizes the key takeaway: 1.4× MOIC from World Fund's first six deals alone. Using a landscape diagram rather than the hackneyed grid of portfolio company logos improves the audience's capacity to absorb, organize, and retain the content.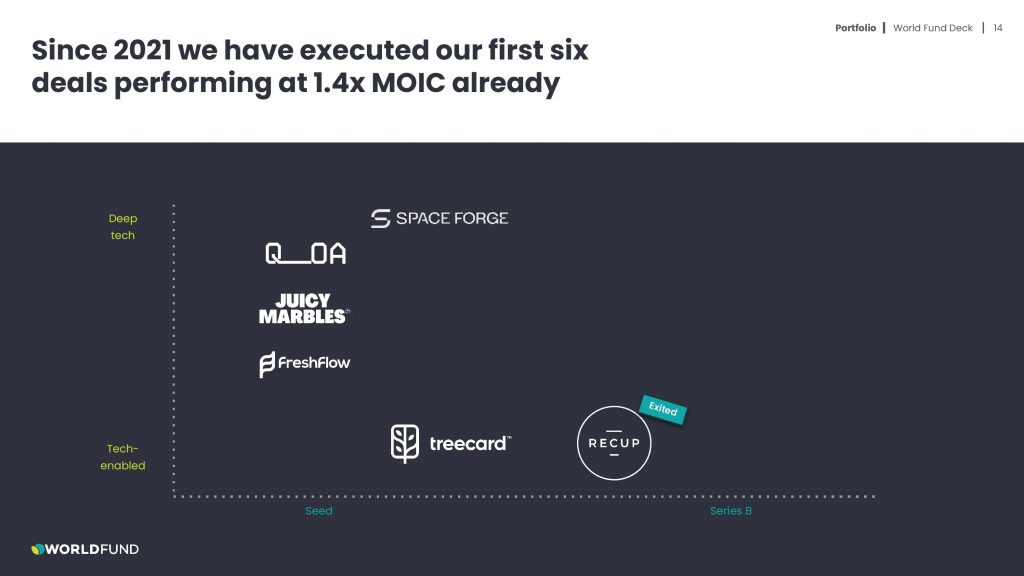 How-to create your own pitch deck like World Fund
We hope you learned something from the World Fund pitch deck, and that you are able to use these insights for your own business.  If you'd like to, you can bookmark it at bestpitchdeck.com/world-fund
Although it probably goes without saying that having a successful business (outside just their pitch deck) was integral to their success, it is critical for any startup to ensure your vision is portrayed properly. That's where crafting the perfect pitch deck comes essential: 
You might find our other resources on how-to create a pitch deck helpful, or benefit from using one of our expert-designed templates:
Our team has helped create decks that have closed over $100M+ in deals & funding for leading startups and even VC firms. You can leverage this experience and get a jumpstart on your pitch with one of our easy-to-use presentation templates, one-pagers, or financial models.
Every pitch requires a unique approach tailored to its audience. Our team of experts has created pitch decks for different industries, as well as funding stages: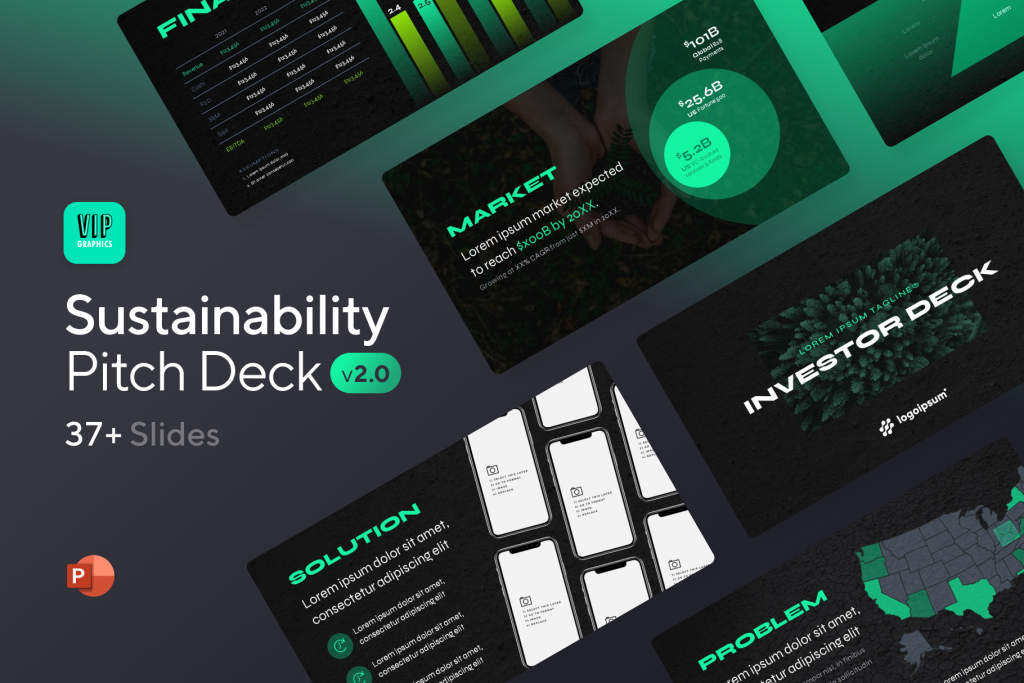 Sustainability Pitch Deck — You might be interested in the popular Sustainability Pitch Deck designed by our team of experts at VIP.graphics: cutting-edge slides based on decks that closed millions in deals & funding. This template is perfect for or any business in the sustainability industry (ie. recycling, eco-friendly suppliers, carbon offsetting, green services, & more).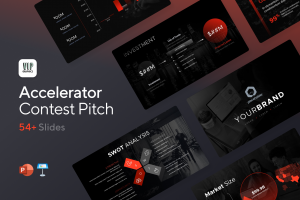 Accelerator Pitch Deck Template — The Accelerator Pitch Deck template was crafted for early-stage founders seeking to win funding &/or investment from pitch contests, accelerators, incubators, and angels or VC firms. Winning a pitch contest or being accepted to a prominent accelerator program requires a unique strategic approach to an investor pitch presentation.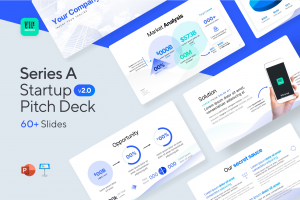 Series A Pitch Deck Template — A pitch deck template for startups and founders raising funding: Smart, actionable slides that work. This is a pitch deck template built specifically for startups, entrepreneurs and founders raising their first seed or Series A round of institutional capital.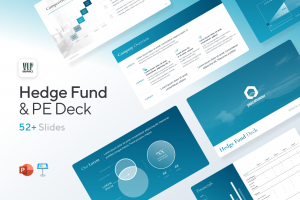 Mergers & Acquisitions Pitch Deck Template — Perfect Pitch Deck™ is a template crafted for later-stage businesses entering more sophisticated discussions such as mergers & acquisitions (M&A), late-stage investment (Series C+), or other partnerships & financing opportunities. Our team of experts created this presentation to empower founders to present with confidence to investment banks, private equity (PE) groups, and/or hedge funds (and vice versa).