Virtual labs are simulated learning environments that allow students to do laboratory experiments online while also exploring abstract topics and complex theories without having to visit a physical science lab. A range of commercial, nonprofit, and educational organizations have developed virtual lab applications and content, and a rising number of institutions and universities are offering virtual labs in many fields.
Labster is an award-winning startup dedicated to improving the way science is taught to university, college, and high school students throughout the world by utilizing virtual reality technologies.
Labster's virtual labs are built on mathematical algorithms that facilitate open-ended research and integrated with gamification components like an immersive 3D universe, storytelling, and a scoring system to pique students' inherent interest and show the link between science and real-world issues.
The ultimate goal of VR education is "teachers being empowered through far greater insights into their individual students' skills levels and each student receiving the best possible education given their individual progression and learning style." Michael Bodekaer Jensen, Labster founder, and CEO explained "Students can go with their teachers on different field trips, where they can bring virtual samples back to a virtual laboratory and apply their science skills to solve real-world problems such as global warming or energy crises,"
Currently, Labster sells its e-learning solution to support and enhance in-person courses. More than 3000 institutions are using the Labster platform, including global leading institutions such as Harvard, MIT, Stanford, Exeter University, and ETH Zurich.
Covid-19 and virtual reality trends such as the metaverse will only accelerate the use of VR labs: worldwide shipments for augmented reality and virtual reality headsets are expected to grow to 68.9 million units in 2022, with a five-year compound annual growth rate of 55.5%, according to the latest forecast from the International Data Corporation Worldwide Quarterly Augmented and Virtual Reality Headset Tracker.
Labster has secured $47 million in a round headed by Sofina and Pirate Impact, which only goes to show that investors are well-aware of the virtual learning opportunity. According to the company, this new capital infusion will enable the company to further develop in Europe and the United States and to establish itself within Asia and Latin America.
Here's a look at the pitch deck that was used in to raise $47M in funding for Labster:
Browse the exact example slides from the pitch deck that Labster used to secure $47 million in a funding round by Sofina and Pirate Impact.
1. Product Slides
The goal of the product slide is to demonstrate how your startup's solution works. It gives a look into the "actual" product that your business is built on, and it sometimes includes traction numbers to go along with it. The product slides generally include photographs of the product in use, as well as a list of advantages.
For a platform as innovative as virtual reality labs, it makes sense to place the focus on explaining the product and its benefits to the investors. As such, it's no surprise that we find multiple product slides in the Labster pitch deck. One of the lessons to take from the Labster product slide is how they choose to focus on just a couple of key points — sometimes pitch decks try to cover every single feature in their cover slides, and by covering too much you lose the punch of what the core benefits are.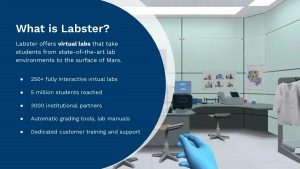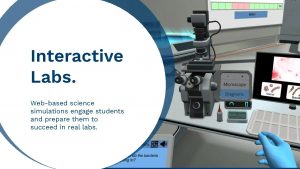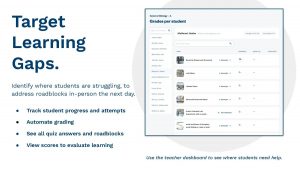 2. Team Slide
Because VCs understand that market conditions change daily and new possibilities (and problems) are prone to emerge, they fund a business based on the core team as well as the idea. This is why we've seen situations where a venture capitalist is eager to invest in an individual regardless of their business idea or plan. The team slide provides investors with information on the expertise of the people that run the business.
Despite the importance of this slide, it doesn't have to be complicated: most team slides include a headshot, name, title, and prior experience. This is exactly what we find in the Labster pitch deck: however, Labster's team slide might be criticized for underselling the majority of their leadership team by merely offering names and titles and failing to provide an overview of prior experience, which would be useful to investors who may not be familiar with them. Instead, Labster only includes a brief bio for their founders and Board, whereas they could have done the same for all of their leadership team.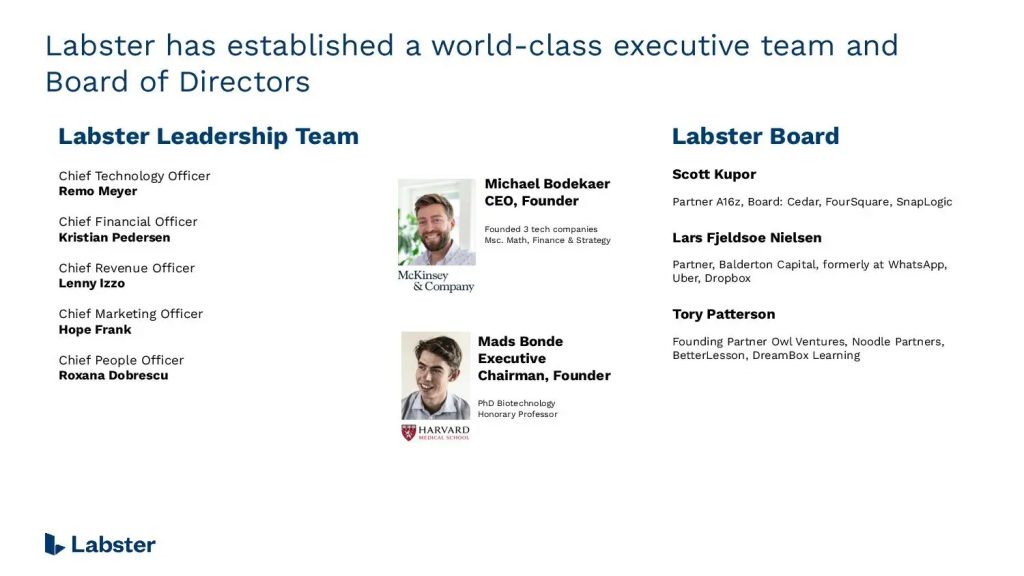 3. Traction Slide
Traction implies that the goods and services offered by your company have been validated as market-viable. It also demonstrates that your startup has found product-market fit for its offerings,  that your brand is developing recognition in the industry, and that you're attracting the proper kind of attention.
There are several ways to demonstrate traction, including key metrics such as mobile downloads, revenue growth, profitability, and more. One simple approach for businesses to demonstrate traction is to emphasize their partnerships and client base, which can be used to assess how well they work with clients and build relationships to grow market share.
Labster's simple traction slide includes logos of some of its biggest clients. Accompanying this grid of logos is a catchy title and a short description for social proof: Labster is used by over 300+ institutions.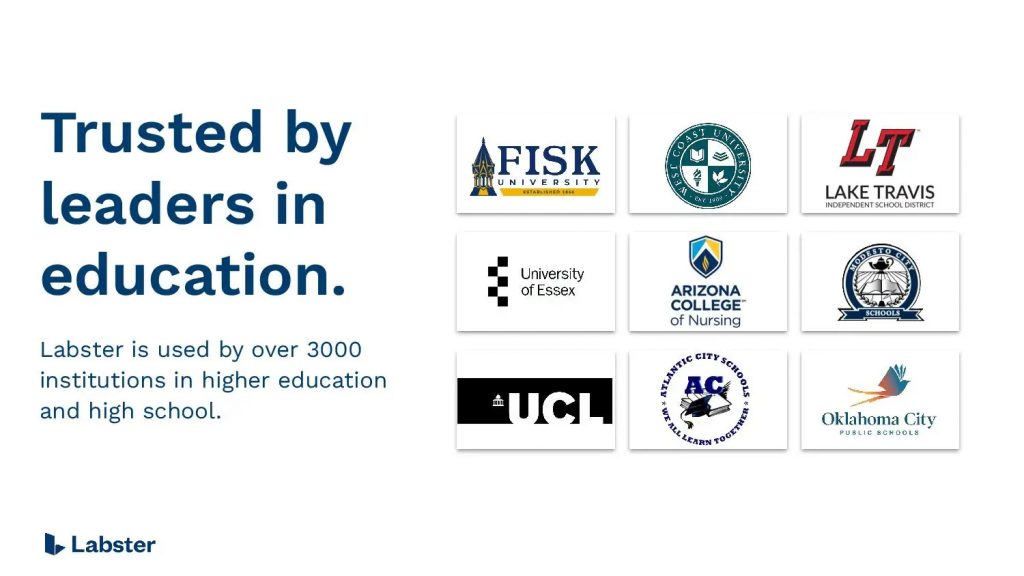 How-to create your own pitch deck like Labster
We hope you learned something from the Labster pitch deck, and you are able to use these insights for your own business.  If you'd like to, you can bookmark it at bestpitchdeck.com/labster
Although it probably goes without saying that having a successful business (outside just their pitch deck) was integral to their success, it is critical for any startup to ensure your vision is portrayed properly. That's where crafting the perfect pitch deck comes essential: 
You might find our other resources on how-to create a pitch deck helpful, or benefit from using one of our expert-designed templates:
Our team has helped create decks that have closed over $100M+ in deals & funding for leading startups and even VC firms. You can leverage this experience and get a jumpstart on your pitch with one of our easy-to-use presentation templates, one-pagers, or financial models.
Every pitch requires a unique approach tailored to its audience. Our team of experts has created pitch decks for different industries, as well as funding stages:
EdTech Pitch Deck Template — You might be interested in the popular EdTech Pitch Deck designed by our team at VIP.graphics: cutting-edge slides based on decks that closed millions in deals & investments for orgs of all sizes: from high-growth startups to Fortune 100 corporations. This easy-to-customize template for PowerPoint or Keynote offers you ready-made elements & all the essential slides to help your education startup succeed.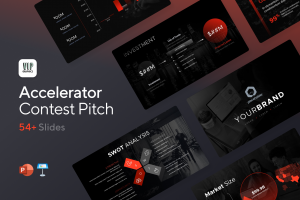 Accelerator Pitch Deck Template — The Accelerator Pitch Deck template was crafted for early-stage founders seeking to win funding &/or investment from pitch contests, accelerators, incubators, and angels or VC firms. Winning a pitch contest or being accepted to a prominent accelerator program requires a unique strategic approach to an investor pitch presentation.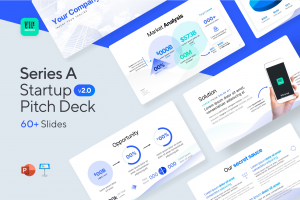 Series A Pitch Deck Template — A pitch deck template for startups and founders raising funding: Smart, actionable slides that work. This is a pitch deck template built specifically for startups, entrepreneurs and founders raising their first seed or Series A round of institutional capital.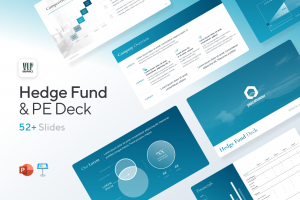 Mergers & Acquisitions Pitch Deck Template — Perfect Pitch Deck™ is a template crafted for later-stage businesses entering more sophisticated discussions such as mergers & acquisitions (M&A), late-stage investment (Series C+), or other partnerships & financing opportunities. Our team of experts created this presentation to empower founders to present with confidence to investment banks, private equity (PE) groups, and/or hedge funds (and vice versa).
Alternatively, feel free to browse our growing selection of pitch decks tailored for specific industries and businesses.