Despite a looming stock market downturn, layoffs and hiring freezes at top unicorns, and memos from VCs across industries warning of "trying times" ahead, this week still came with a flurry of announcements of large venture capital rounds for companies ranging from payments to employee perks.
Here's an inside look at the pitch decks that were used to raise over $183M in funding announced this week:
Modulr pitch deck: $108M Series C led by General Atlantic
Modulr offers Payments-as-a-Service which automates payment flows, embeds payments in other platforms and enables customers to launch entirely new services. Most notably, their platform has offers the unique benefit of direct access to the Bank of England, allowing Modulr to settle funds at the UK's central bank.
The company's clients include more than 200 companies, including Revolut, Wagestream, Sage and BrightPay, and their millions of customers. Modulr raised $108M (£83M) in Series C funding led by General Atlantic, and existing investors, with the goal of becoming the leading provider of embedded payments to digital businesses across the UK and Europe.
Browse the exact example slides from the pitch deck that Modulr used to secure $108 million in Series C financing, led by blue-chip VC firm, General Atlantic:
AI Rudder pitch deck: $50M Series B from Tiger Global and Coatue
AI Rudder develops AI-powered voice solutions to improve B2C communications and help call centers reduce costs by automating repetitive tasks and lowering agent workload.
Founded in 2019, AI Rudder develops advanced voice AI technology to help businesses solve B2C communication challenges across a range of different industries, including banking and finance, fintech, insurance and e-commerce.
The startup claims that its client list has grown to more than 200 since launching three years ago and revenue quadrupled last year alone, though they haven't shared specific figures.
The Singapore-based enterprise voice AI startup closed a $50 million Series B funding round led by Tiger Global and Coatue with this 8-slide pitch deck. The new investment comes just four months after AI Rudder closed a Sequoia Capital India-led $10 million round.
Browse the exact example slides from the pitch deck that AI Rudder used to secure $50 million in Series B financing from leading investment firms like Tiger Global.
Mathison pitch deck: $25M Series A for DEI platform
Mathison is the first all-inclusive technology for diversity hiring and retention. Their platform delivers top-of-funnel diversity sourcing, a system to reduce bias in the hiring process, and tools to mobilize the entire team around diversity hiring efforts.
The company was founded by Arthur Woods and Dave Walsh in 2019, who saw the opportunity to build an end-to-end hiring solution for diversity, equity and inclusion (DEI).
The NYC-based DEI company closed $25 million in Series A funding, led by F-Prime Capital, with participation from Bain Capital Ventures, SemperVirens, ANIMO Ventures, GTM Fund, Gaingels and JP Morgan.
Browse the exact example slides from the pitch deck that Mathison used to secure $25 million in Series A financing:
How-to create your own pitch deck
We hope you learned something from these pitch deck examples, and that you are able to use these insights for your own business.  If you'd like to, you can browse more examples of successful investor presentations at bestpitchdeck.com — the world's largest library of pitch decks. 
Although it probably goes without saying that having a successful business (outside just their pitch deck) was integral to the success of these companies, it is critical for any startup to ensure your vision is portrayed properly. That's where crafting the perfect pitch deck comes essential: 
You might find our other resources on how-to create a pitch deck helpful, or benefit from using one of our expert-designed templates:
Our team has helped create decks that have closed over $100M+ in deals & funding for leading startups and even VC firms. You can leverage this experience and get a jumpstart on your pitch with one of our easy-to-use presentation templates, one-pagers, or financial models.
Every pitch requires a unique approach tailored to its audience. Our team of experts has created pitch decks for different industries, as well as funding stages: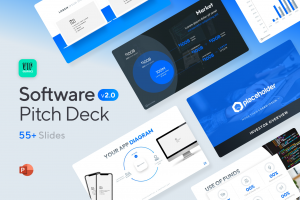 Software & SaaS Pitch Deck — You might be interested in the popular SaaS Pitch Deck designed by our team at VIP.graphics: cutting-edge slides based on decks that closed millions in deals & investments for orgs of all sizes: from high-growth startups to Fortune 100 corporations. This easy-to-customize template for PowerPoint or Keynote offers you ready-made elements & all the essential slides to close deals faster!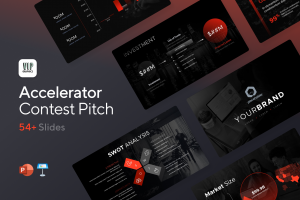 Accelerator Pitch Deck Template — The Accelerator Pitch Deck template was crafted for early-stage founders seeking to win funding &/or investment from pitch contests, accelerators, incubators, and angels or VC firms. Winning a pitch contest or being accepted to a prominent accelerator program requires a unique strategic approach to an investor pitch presentation.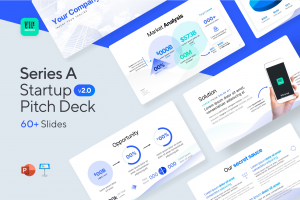 Series A Pitch Deck Template — A pitch deck template for startups and founders raising funding: Smart, actionable slides that work. This is a pitch deck template built specifically for startups, entrepreneurs and founders raising their first seed or Series A round of institutional capital.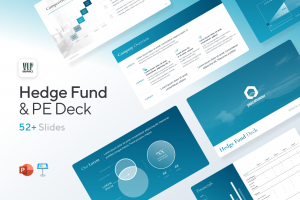 Mergers & Acquisitions Pitch Deck Template — Perfect Pitch Deck™ is a template crafted for later-stage businesses entering more sophisticated discussions such as mergers & acquisitions (M&A), late-stage investment (Series C+), or other partnerships & financing opportunities. Our team of experts created this presentation to empower founders to present with confidence to investment banks, private equity (PE) groups, and/or hedge funds (and vice versa).
Alternatively, feel free to browse our growing selection of pitch decks tailored for specific industries and businesses.