Teladoc Health provides a platform for healthcare providers of all specialties including physicians, dermatologists, nutritionists, and behavioural health specialists, to communicate with patients through phone, video, or app. Patients can get medical help and prescriptions without ever having to visit a doctor physically.
Branded as the country's first and largest telemedicine company, Teladoc Health was founded in 2002 and has since acquired companies such as BetterHelp in 2015, Best Doctors in 2017, Advance Medical in 2018, and Livongo in 2020. As the market leader, the company commands a 13% market share in the United States. In 2021, Teladoc was active in 130 countries, serving roughly 40 million members. Teladoc is a publicly-traded company that trades on the New York Stock Exchange.
Despite its dominance and year-over-year expansion, not everything has gone well. Teladoc's stock dropped more than 6% in an extended trading session on Tuesday (2/22/2022) after reporting a Q4 2021 loss of $11 million, or 7 cents per share, compared to a year-ago loss of $394 million, or $3.07 per share.
The company is counting on Primany360, a primary-care product, to fend off increased competition. Primary360 pairs patients with a care team and tracks their health over time. It serves as a central hub, allowing the team to route patients to various channels as needed, such as Teladoc services and in-network providers. 
"I think we've moved rapidly from the awareness phase of virtual care directly into the expectations. And those expectations have increased. They've become expectations of whole-person care, not just a point solution for a single condition." Jason Gorevic said in a recent interview to CNBC.
Teladoc has been using this B2B sales deck to showcase the Primary360 product. Teladoc signed up over 50 healthcare plans as customers using these slides. Let's take a closer look:
Browse the exact example slides from the pitch deck that Teladoc used to pitch its Primary360 service.
1. Product Slide
Primary360's pitch deck can be characterized as a sales pitch deck. In contrast to a funding pitch deck, which is used to present a summary of your business, company, and vision in order to attract investment, a sales pitch deck includes an outline of your product or service in order to encourage the audience to buy it.
As such this sales deck is mainly focused on the actual product, with several slides explaining the product's different merits. Keeping in mind that the human brain processes images 60,000 times quicker than text and that 90% of information transmitted to the brain is visual, the pitch deck makes excellent use of visuals. For example, the product slide uses an eye-catching diagram to explain different care offerings the product covers.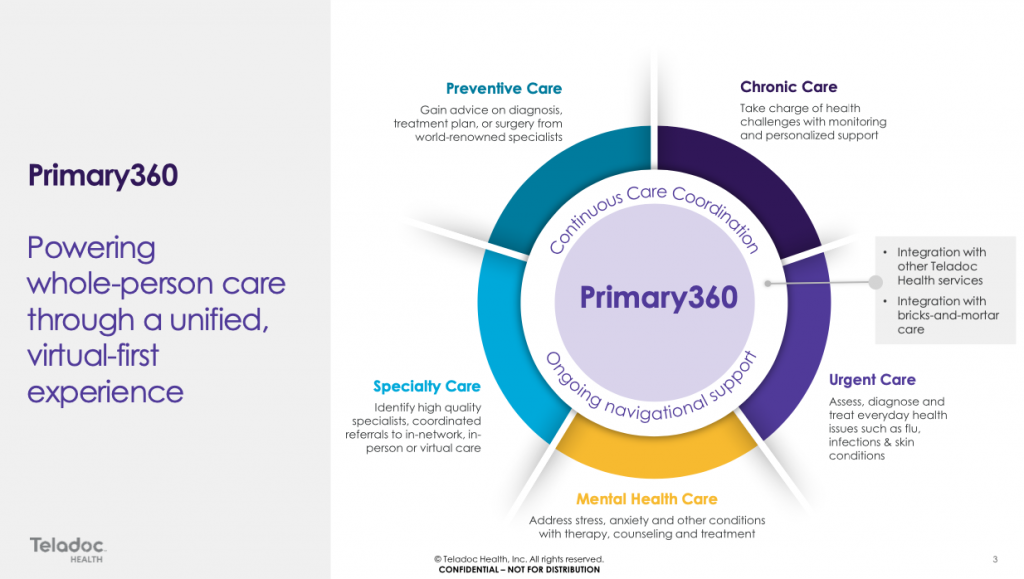 2. Traction Slide
The traction slide is just as critical for multibillion-dollar corporations as it is for startups. In a financing pitch deck, the traction slide usually explains what the company has achieved to-date, whereas a sales deck tends to showcase the marquee brands that trust the product being sold — in either case, a portfolio of well-known corporations as customers can work wonders.
The market impact slide in the Primary360 pitch deck capitalizes on the company's position as a healthcare service provider to Fortune 500 organizations to establish credibility. Unlike the typical text-heavy slides which could be criticized for being wordy, this slide highlights various company logos and their respective sectors in a simple manner that's easy on the eyes.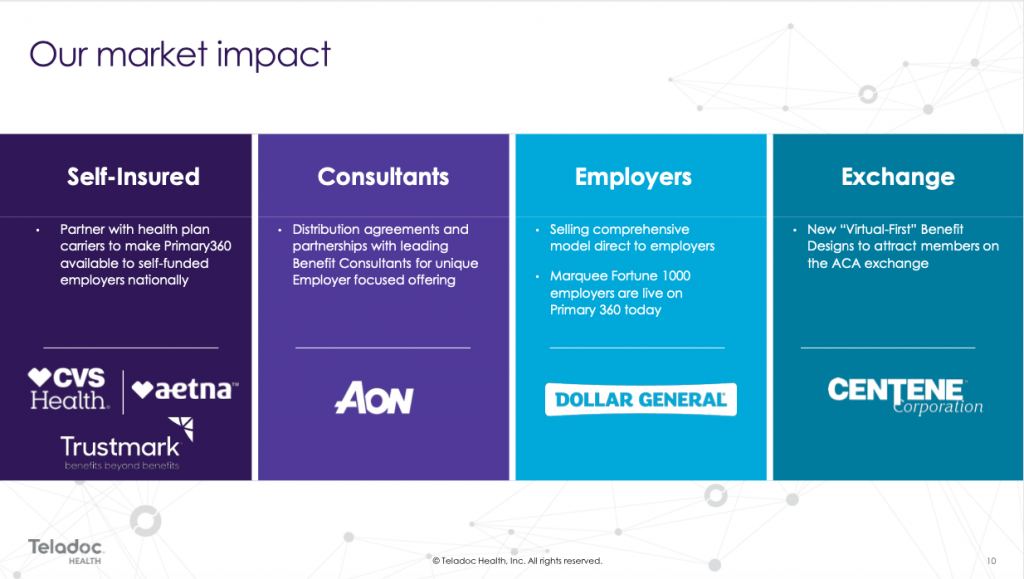 3. Value Proposition Slide
The value proposition slide should summarize of what your business offers to customers and where the company is headed. It should be short, to-the-point, and aligned with your company's vision. This is an essential point that every deck should cover (whether for a sales pitch deck or a fundraising / investor presentation), as it demonstrates why customers should / will buy your solution.
Quantifying the benefits of your product with numbers is one of the most convincing approaches to explaining your business' value proposition. The Teladoc deck takes this approach with a "by-the-numbers" summary showcasing six different statistics demonstrating the measurable results of using Primary360:

How-to create your own pitch deck like Teladoc
We hope you found the Primary360 pitch deck interesting and that it has provided you with insight into how a billion-dollar company might pitch their product. If you'd like to, you can bookmark all the slides at bestpitchdeck.com/teladoc
No matter if you are pitching for funding to investors or selling your product to a business, a well-crafted pitch deck will help you in presenting your vision appropriately.
You might find our other resources on how-to create a pitch deck helpful, or benefit from using one of our expert-designed templates:
Our team has helped create decks that have closed over $100M+ in deals & funding for leading startups and even VC firms. You can leverage this experience and get a jumpstart on your pitch with one of our easy-to-use presentation templates, one-pagers, or financial models.
Every pitch requires a unique approach tailored to its audience. Our team of experts have created pitch decks for different industries, as well as funding stages: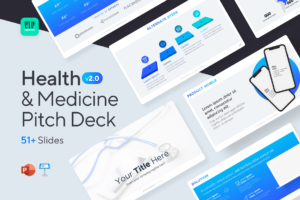 Health & Medical – Pitch Presentation — You might be interested in the popular Health & Medical – Pitch Presentation designed by our team at VIP.graphics: With this creative pitch deck template, you can easily create an awesome, professional-quality pitch deck for any cannabis business idea or hemp or CBD product, service, platform – or any other industry that needs a customizable PowerPoint and Keynote presentation. Just open it in PowerPoint or Keynote and start editing.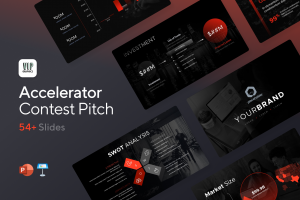 Accelerator Pitch Deck Template — The Accelerator Pitch Deck template was crafted for early-stage founders seeking to win funding &/or investment from pitch contests, accelerators, incubators, and angels or VC firms. Winning a pitch contest or being accepted to a prominent accelerator program requires a unique strategic approach to an investor pitch presentation.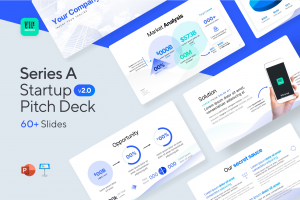 Series A Pitch Deck Template — A pitch deck template for startups and founders raising funding: Smart, actionable slides that work. This is a pitch deck template built specifically for startups, entrepreneurs and founders raising their first seed or Series A round of institutional capital.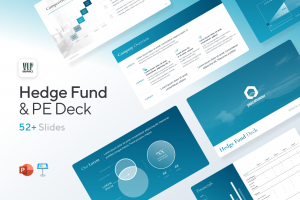 Mergers & Acquisitions Pitch Deck Template — Perfect Pitch Deck™ is a template crafted for later-stage businesses entering more sophisticated discussions such as mergers & acquisitions (M&A), late-stage investment (Series C+), or other partnerships & financing opportunities. Our team of experts created this presentation to empower founders to present with confidence to investment banks, private equity (PE) groups, and/or hedge funds (and vice versa).
Alternatively, feel free to browse our growing selection of pitch decks tailored for specific industries and businesses.