Traditional influencers are becoming increasingly expensive for marketers to hire for campaigns. Tiktok and Instagram's user bases have grown to the point where it's difficult for brands to forecast whether a top influencer's promoted video will even be able to cut through the noise.
Enter Pearpop, a social collaboration marketplace that connects creators with brands and allows creators to pay for shared screen time with celebrities via its online marketplace. Creators can take part in live challenges, which pay out based on how many people view the content they create
"I built Pearpop as the social capital marketplace that helps creators grow, earn and promote across all platforms," Mason told CEO and co-founder said in an interview. "The overall vision is to move the industry away from platform-driven awareness marketing towards people-driven influence."
Pearpop began as a platform for TikTok creators to earn money by posting videos for fans, either through duets, stitches, or by including specific sounds in videos. Since then, the company has shifted its focus to "Challenges," which require participants to do something, such as dance, include a specific hashtag, add a branded effect, incorporate a product or logo in a video, or add a song to a post. Participants in a challenge are compensated on a sliding scale based on the number of views their videos receive.
"We've reached a critical mass on the creator side, as we now have more than 200,000 on our platform," said Cole. "We've paid out over $10 million to creators, and we've been proud to see how Pearpop has opened up an opportunity for creators without a massive following: 71% of earnings have gone to creators with under one million followers."
Pearpop has attracted numerous marquee brands, including Amazon, Netflix, Chipotle, Rakuten, Universal Pictures, Sonos, and Beyond Meat, as well as celebrities like Doja Cat, The Weeknd, Madonna, Shawn Mendez, and Post Malone. Investors in the company include mainstream entertainers like James Corden, Lil Nas X, Dre London, King Bach, Gabrielle Union, Jake Paul, YG, James Corden, Paris Hilton, Snoop Dogg, Amy Schumer, The Chainsmokers, and Kevin Hart. Several high-profile TikTok creators also back Pearpop.
Last week the company announced its latest funding round, which is an extension of its Series A funding round from 2021. According to the announcement, the company has raised $18 million in Series A funding, bringing its total valuation to $300 million. Pearpop has raised $34 million in funding since its launch in October 2020. The new investment was led by Ashton Kutcher' & Guy Oseary's Sound Ventures, and Alexis Ohanian's Seven Seven Six, with participation from Blockchange Ventures, Avalanche's Blizzard Fund, and C2 Ventures.
"We have no shortage of ideas in the roadmap to help Creators earn a living doing what they love," said Cole. "Our long-term vision is to continue to unlock the value of every social media user on the planet while setting the standard for collaboration and creator monetization."
Here's a look at the pitch deck that Pearpop used to raise $18 million Series A round from leading VC firms like Sound Ventures and Seven Seven Six.
Browse the exact example slides from the pitch deck that Pearpop used to raise its Series A round.
1. Cover Slide
The most important part of any piece, whether an article, sales copy, or news story, is the introduction. Without a compelling opening that assures the audience that their time will not be wasted, the rest of your words or pitch may as well not exist at all. According to Copyblogger, 80% of people will read your headline but only 20% will read the rest of your content. The importance of an opening is so great that master copywriter Gene Schwartz would often devote an entire week to the first 50 words of a sales piece — the title and the first paragraph.
The same can be said for pitch deck openings. The cover of your pitch deck will determine the first impression your company makes on prospective investors. The Pearpop pitch deck is filled with beautifully-designed slides, and the cover is no exception: with an eye-catching design that incorporates the Pearpop brand guidelines and app screenshots. 
Most opening slide include the same basic elements: the company name, logo, and a tagline summarizing the company's value proposition. Pearpop's pitch deck's cover slide weaves these elements with captivating visuals. The slide references Pearpop's nomination as one o f the "Most innovative companies 2022" by Fast Company to convey authority and hook the audience.
2. Problem Slide
Almost every investor pitch can be broken down into the same basic four components: problem, solution, why us, and why now. The first part, the problem, is generally the first slide in the pitch. The best way to explain the problem is to thoroughly understand the target market (in Pearpop's case, the influencers and creators), their aspirations, and the obstacles that prevent them from achieving them. The slide should then summarize the core of these pain points as briefly as possible.
Pearpop founder Cole was well-aware of the challenges that influencer marketing faced: he met many online creators, many with millions of followers while working as a nightclub promoter, but few were able to monetize their influence. Additionally, Pearpop was able to identify a key pain point: running campaigns that involve multiple creators at the same time can be difficult.
Pearpop's pitch deck's problem slide summarizes these problems with a simple one-sentence statement: "collaborating with creators remains a highly manual, unpredictable, and time-consuming process". The visually appealing slide is straightforward and employs the visuals of leading influencers and creators. The following slides expound upon this, explaining how this causes the creator economy "to favor big name talent."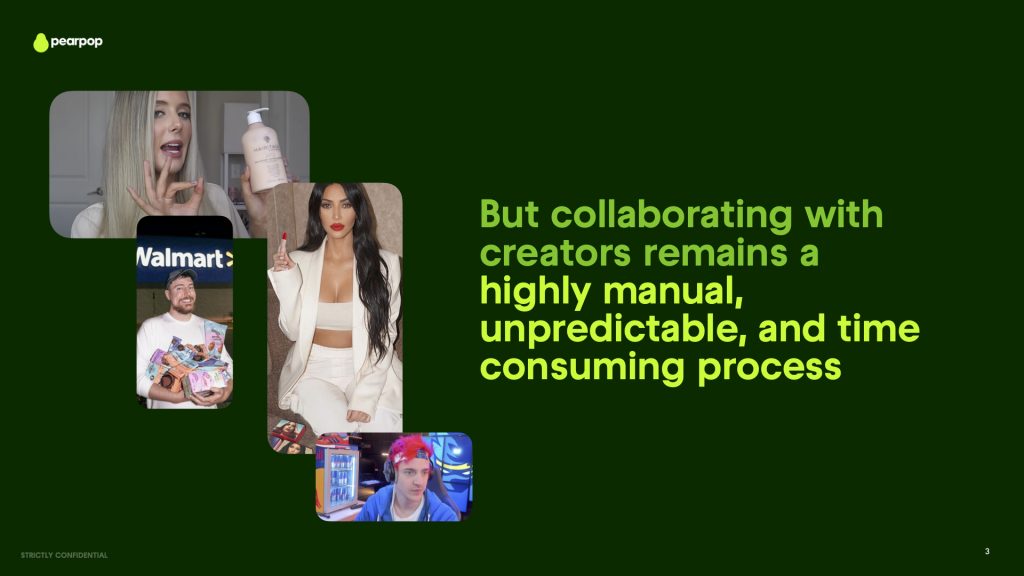 3. Team Slide
The team slide is one of, if not the, most important slide in any pitch deck. In the early stages of startups, VCs are backing the team first and the company second. Getting the team slide right is critical to your fundraising success.
The Pearpop pitch deck's team slides exemplify how to do this. The slides include all of the necessary components to create an overview of the team that demonstrates to investors that this team includes the right people to take on this project.
The slide utilizes past company logos, which are preferable to text-based bios. Most investors receive a large number of pitch decks and will only have a few moments to go through your entire pitch deck; as such, it's a good idea to replace text with images or logos whenever possible to make the slides easier and quicker to scan.
Pearpop's team slides are among the most well-designed team slides we've seen in recent pitch decks. These slides can be improved further by including a brief, one-line description of previous experience (ie. Rebecka Marcucci, for example, worked as Head of Product at Tinder and Accenture, but the slide offers no context regarding her role at these companies). Including a detailed description like "Managed 50-person front-end team for iOS app at Tinder, leading app to 10M downloads." not only explains what Rebecka accomplished personally but also how she led others.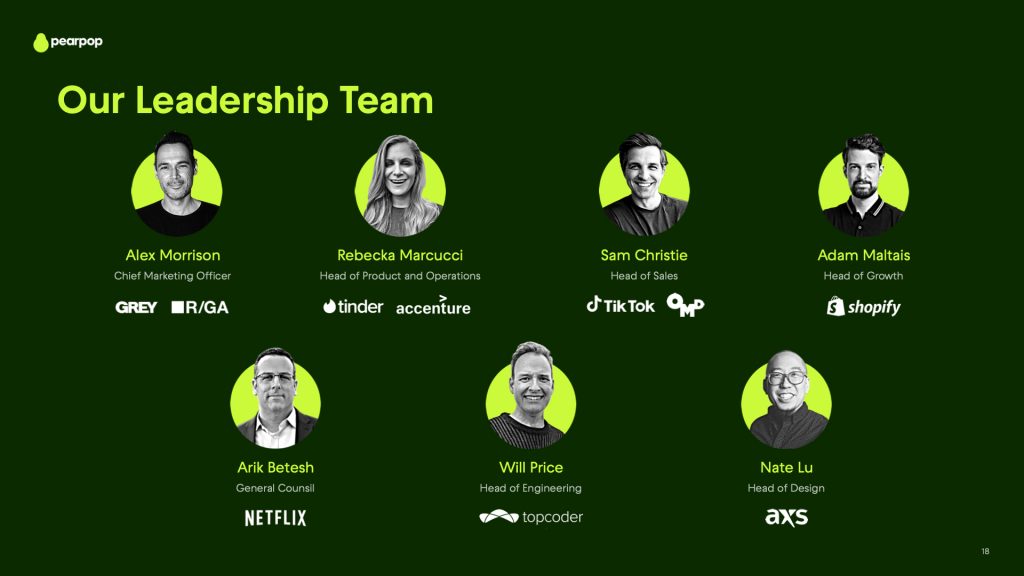 4. Traction Slides
The purpose of the traction slide in a pitch deck is to provide evidence of the progress and success of a company. It is intended to showcase the company's achievements and growth in terms of metrics such as user acquisition, revenue, and market penetration. By highlighting these key performance indicators, the traction slide helps demonstrate that the business has achieved product-market fit.
The Pearpop pitch deck includes a series of gorgeously-designed slides showcasing several different forms of traction: from quantifiable metrics (ie. $10M+ paid out to creators), to logos of leading brands that use Pearpop. Dedicating multiple slides to traction is a great way to drive home your point and ensure investors fully grasp what your company has achieved to-date (which helps to justify your valuation — Pearpop raised this round at a $300M valuation).

How-to create your own pitch deck like Pearpop
We hope you learned something from the Pearpop pitch deck, and that you are able to use these insights for your own business.  If you'd like to, you can bookmark it at bestpitchdeck.com/Pearpop
Although it probably goes without saying that having a successful business (outside just their pitch deck) was integral to their success, it is critical for any startup to ensure your vision is portrayed properly. That's where crafting the perfect pitch deck comes essential: 
You might find our other resources on how-to create a pitch deck helpful, or benefit from using one of our expert-designed templates:
Our team has helped create decks that have closed over $100M+ in deals & funding for leading startups and even VC firms. You can leverage this experience and get a jumpstart on your pitch with one of our easy-to-use presentation templates, one-pagers, or financial models.
Every pitch requires a unique approach tailored to its audience. Our team of experts has created pitch decks for different industries, as well as funding stages: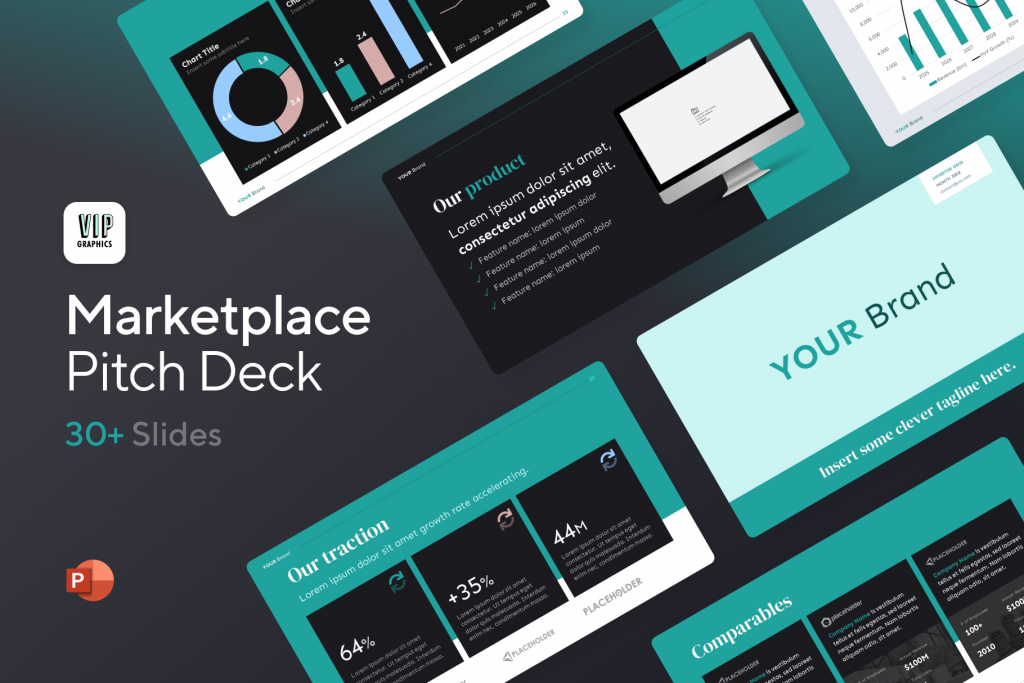 Marketplace Pitch Deck — You might be interested in the popular Marketplace Pitch Deck Template designed by our team of experts at VIP.graphics: cutting-edge slides based on decks that closed millions in deals & funding. This template is perfect for any business in the marketplace space.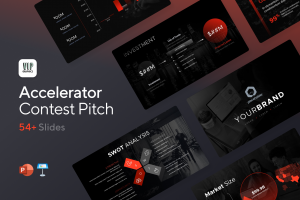 Accelerator Pitch Deck Template — The Accelerator Pitch Deck template was crafted for early-stage founders seeking to win funding &/or investment from pitch contests, accelerators, incubators, and angels or VC firms. Winning a pitch contest or being accepted to a prominent accelerator program requires a unique strategic approach to an investor pitch presentation.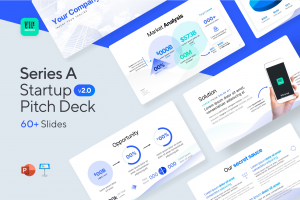 Series A Pitch Deck Template — A pitch deck template for startups and founders raising funding: Smart, actionable slides that work. This is a pitch deck template built specifically for startups, entrepreneurs and founders raising their first seed or Series A round of institutional capital.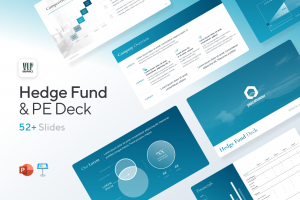 Mergers & Acquisitions Pitch Deck Template — Perfect Pitch Deck™ is a template crafted for later-stage businesses entering more sophisticated discussions such as mergers & acquisitions (M&A), late-stage investment (Series C+), or other partnerships & financing opportunities. Our team of experts created this presentation to empower founders to present with confidence to investment banks, private equity (PE) groups, and/or hedge funds (and vice versa).