Creating a convincing pitch deck that succinctly summarizes the business value is no easy task. The stakes are high, and the deck must tell a compelling story about the problem you're solving, the size of the market you're addressing, and whether your team has charted a viable path to success with a clear exit strategy.
As an entrepreneur looking to develop the ideal pitch deck, you can take advantage of the numerous free resources available online. These resources can be a great place to start. However, the harsh reality is that you are competing against thousands of other pitches. Paul O'Brien, CEO of MediaTech Ventures, stated that they receive approximately 12 pitches per day (over 4,380 every year)! To stay ahead of the competition, it's critical to keep up with the latest trends, best practices, and research on pitch decks.
One recent study published by Docsend, a Dropbox-owned service that lets you send trackable versions of pitch decks to analyze how recipients are engaging with pitch decks, reveals very interesting insights. Docsend collaborated with Harvard Business School Professor Tom Eisenmann to examine over 200 pitch decks from startups that raised over $360 million in seed and Series A funding rounds. Here are the key takeaways:
VCs are spending less time on pitch decks
According to the study, investors spend 24% less time looking at pitch decks in 2022 than they did in 2021. The average time it takes to persuade an investor to meet with you via email deck is just under three minutes. Similarly, an average investor abandons a deck that fails to raise funding after only two minutes and thirteen seconds. All of these findings point to the need for pitch decks that can capture attention right away and speak to investors with brevity and clarity.
"This year, we know that investors are spending less and less time on pitch decks. That's not necessarily surprising: The number of links to pitch decks sent out has gone up, and the time spent on decks is staying very low," said Justin Izzo, research lead for DocSend. "What's surprising to me is that we know that the product and business model sections of decks are really where investors liked to lean in, especially for companies at the early stages. But investors have almost halved their time spent on these sections at the pre-seed level. Investors are still giving scrutiny to these sections, but they're doing it so much more quickly than ever before. So founders have to really think deeply about their business, but communicate briefly."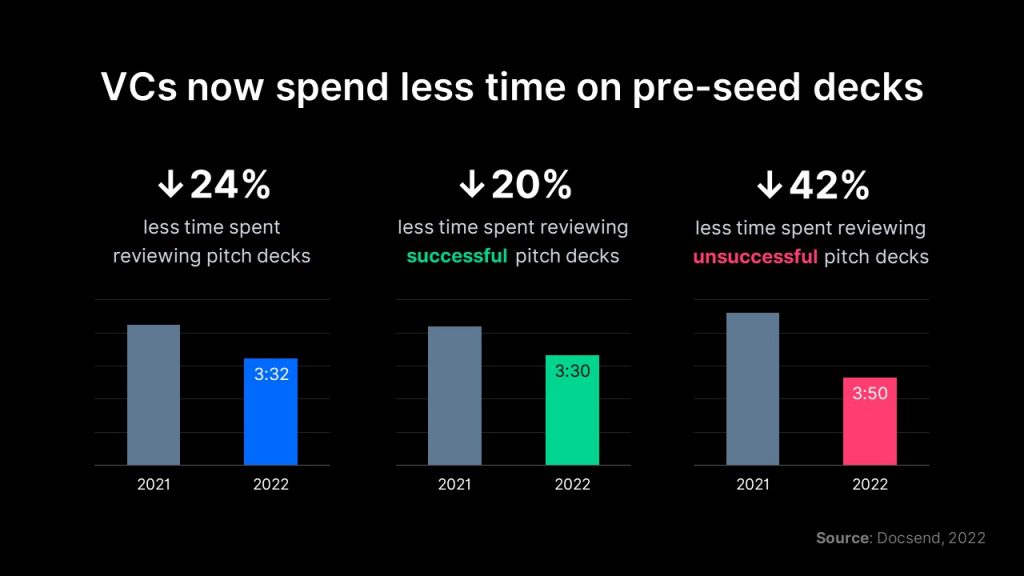 Certain industries are easier to raise fundraising
You will realize at some point during your fundraising adventure that there will always be some variables beyond your influence, such as investors' appetite for risk, their objectives, principles, and so on. One of these key components is the industry you operate in, and according to the DocSend study, the difficulty you'll have raising funding, as well as the amount you'll raise, are directly impacted by whether your startup falls into the consumer, business, marketplace, or hardware categories.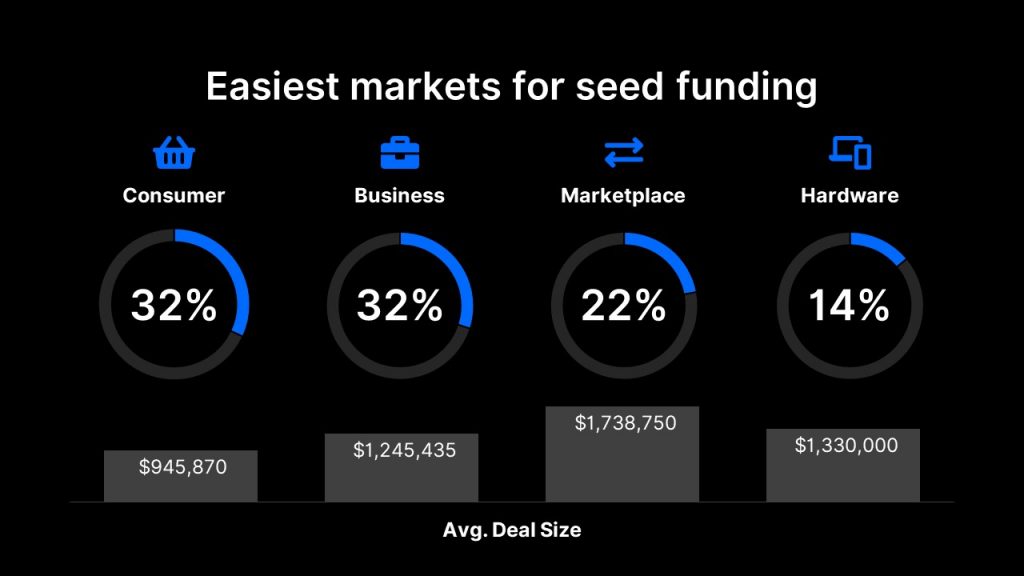 The study finds that on average, marketplace businesses raise the most money in their seed rounds.
Slides in successful versus unsuccessful decks
The slides included and the focus of the pitch deck are probably the most interesting differences between successful and unsuccessful decks.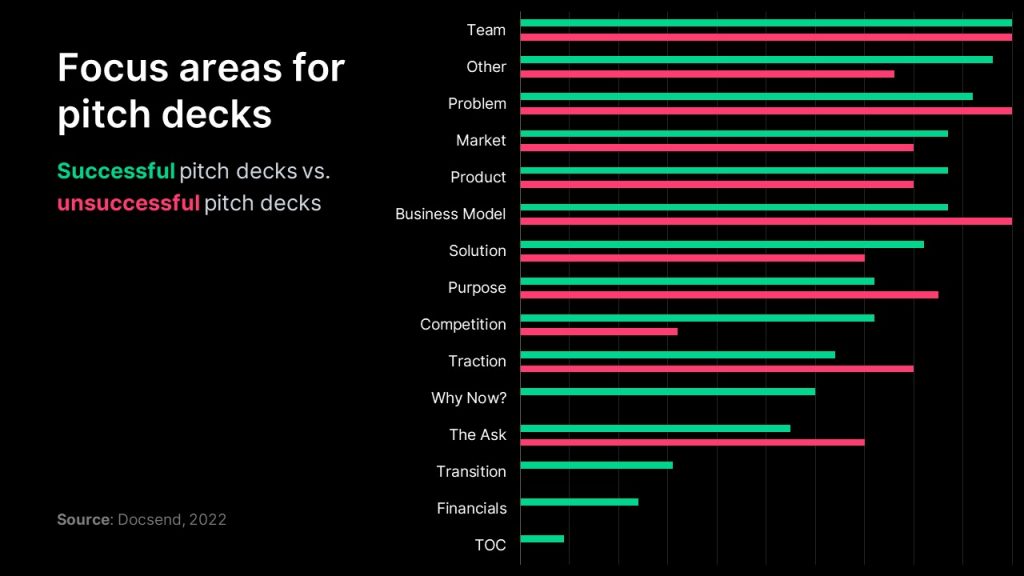 Most of the slides in both successful and unsuccessful pitch decks are similar, such as team, problem, product, market size, and so on. The real difference begins with the competition slide, which appears in approximately 30% of failed decks as opposed to 70% of successful decks. Competition is one of the most important factors influencing investment decisions and should always be considered (for instance, the competition slide in the ORIGYN pitch deck is a good example)
Additionally, according to the DocSend report, the financials section is the most scrutinized — although only 58% of successful pitch decks included it. This can be attributed to seed or Series A startups' lack of historical financial data. It's worth noting that almost none of the pitch decks included slides describing how much money they wanted to raise or the terms of their fundraising, as those details are usually better discussed in-person.
Other findings
Here are other notable discoveries from the study:
Series A funding rounds take

24% less time

than seed rounds, averaging 9.6 weeks.

The successful Series A startups contacted

26 investors on average

, compared to 58 seed-round startups.

While startups seeking seed funding raised an average of

$1.3 million

, those seeking an A round raised approximately $8 million.

You will need to get in touch and meet with 20 to 30 investors.

Don't include the deal terms in your deck. Tailor the presentation for each investor and discuss terms in person with each investor.
Looking to create a pitch deck?
A deck must paint a clear picture of your product, its unique benefits, and how it is strategically aligned with the market in order to secure funding. Furthermore, a visually appealing presentation can leave a lasting impression and dramatically influence how the content is received.
You are not alone if you find it difficult to create a visually appealing pitch deck that answers all the questions investors have in mind. A study was conducted to determine the most difficult aspect of creating slide decks, and 45.1% of the entrepreneurs stated that they struggled primarily with determining how to summarize and condense their content so that it would fit in a good presentation.
As a founder, your strength may lie in running your business, and to create the perfect pitch deck, asking for outside help may be the best course of action (and cost-effective too). Our team has helped create decks that have closed over $200M in deals & funding for leading startups and even VC firms. You can leverage this experience and get a jumpstart on your pitch with one of our easy-to-use presentation templates, one-pagers, or financial models. You might find our other resources on how-to create a pitch deck helpful, or benefit from using one of our expert-designed templates.