Sensorfact, a Dutch climate tech IoT scaleup specializing in smart monitoring solutions for industry, has announced the successful completion of a €25 million investment round. The round was led by the European growth investor Blume Equity, with participation from existing investors FORWARD.one, Korys, and SET Ventures.
The platform offered by Sensorfact features state-of-the-art wireless and non-invasive energy sensors, which boast effortless installation capabilities. Through the company's web-based analytics platform, users gain access to real-time insights regarding energy consumption at a machine-level. Leveraging intelligent algorithms, the system adeptly detects energy anomalies and identifies energy-saving opportunities, which are then compiled into customized reports for users. Notably, Sensorfact asserts that its users typically achieve energy bill savings ranging from 5-10 per cent, showcasing the tangible benefits of their smart monitoring solutions.
"Energy bills are counted among the top highest operational expenses faced by industrial SMEs. Also, European legislation is pushing industries to improve their energy efficiency. We experience that especially SMEs face challenges to comply with government regulations and often lack the machine-level consumption data and analytics to identify savings opportunities." said co-founder & CEO Pieter Broekema
The idea for Sensorfact came to Pieter with his involvement in assisting a company with an energy audit. Prior to that experience, Pieter had assumed that industrial players possessed comprehensive knowledge of energy flow throughout their factories and collected detailed data on it. However, he soon discovered that the data available to them was restricted to monthly invoicing from utility providers and the readings from the main meter. 
"I found it a bit of a pity because they're high energy users," explained Peter.
Consequently, Pieter Broekema felt compelled to address this gap and develop a solution that could provide valuable insights into energy usage for such businesses.
In the last five years, the company has grown its customer base to more than 350 customers in over 14 countries and serves in the sectors including plastics, food & beverages, and metal industry.
Blume Equity, which led the round, is one of few impact-focused growth funds in Europe. The Series B brings Sensorfact's total raised to 45 million euros.
"We are really happy with this powerful consortium of investors as this will allow us to turn our growth plans into reality. Our ambition is to become the number one industrial energy management provider, targeting 370K SME industrial companies in Europe. Together we are making a difference in scaling up this impactful technology", says Pieter Broekema, CEO & Founder of Sensorfact.
With the raised capital, the company aims to further invest in the development of its energy efficiency platform for the industry and further expand across Europe. The funding will also allow the company to continue its growth in Benelux and Italy and launch its activities in the Nordics, Austria, and Switzerland.
Eleanor Blagbrough, co-founding Partner of Blume Equity, says, "Sensorfact is a fantastic company, epitomising the kind of inherently impactful business we seek to back: Europe's industrial SMEs need to improve their resource efficiency and this presents both a compelling impact and business opportunity."
Here's the 11-slide pitch deck Sensorfact used to raise the Series B round.
Browse the exact example slides from the pitch deck that Sensorfact used to raise the $28 million Series B round led by Blume Equity.
1. Problem Slides
The crux of every pitch deck is the problem and solution slides; these two pages work together to provide a clear understanding of the business scope. This message is crucial as investors are drawn to startups that address a problem with significant impact and widespread occurrence. To suceed, the problem slide should be specific and direct, avoiding any vagueness. It must vividly convey to investors that the current status quo is inadequate, inefficient, and outdated, while highlighting how your startup aims to provide a solution.
Sensorfact's pitch deck effectively presents the problem they solve by detailing the challenges plant managers face in monitoring energy usage. The slide maintains simplicity with a concise headline, a relevant image, and contemporary emoticons. Although incorporating statistics could have further emphasized the issue's severity and its industry-wide impact, the slide manages to deliver its message precisely and succinctly to the audience.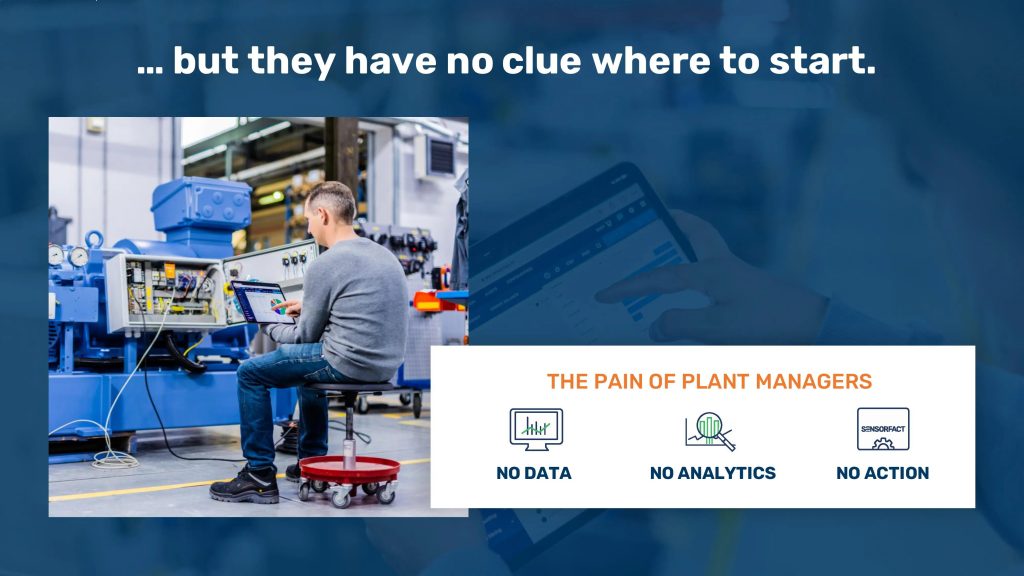 2. Unique Selling Point Slide
The Unique Selling Proposition (USP) slide outlines the distinct benefits of your product or service that differentiate you from competitors. This slide should effectively communicate why people should care about and choose your offering. A compelling USP is a crucial factor in attracting investors, as it not only showcases your company's potential for success but also demonstrates its ability to attract and retain customers in a competitive market. Your USP should clearly convey the key advantages of your product or service in a concise manner to help investors grasp your competitive moat.
The most effective USPs are simple and brief. Marketing experts suggest that if you can express your USP in five words or less, investors are more likely to remember it. This is precisely what we observe in the Sensorfact pitch deck's Unique Selling Point slide. The slide presents three core aspects of the platform's USP, along with how these factors add value for customers. Furthermore, the slide's design is straightforward and aligns with the company's branding.
Overall, the slide effectively communicates the unique selling proposition of Sensorfact without overwhelming the audience with unnecessary details or features.
3. Team Slide
The success of a thriving business hinges on the dedication of the individuals working tirelessly behind the scenes. Investors, recognizing the dynamic nature of ideas, place a higher emphasis on the people driving the company forward. Ideas can evolve and change, but a strong and consistent team remains the foundation of success. David Pakman, Partner at Venrock puts it very nicely: "It will usually take 6–10 years for the company to reach giant success. Given that, many things will go wrong and the one mitigating factor for setbacks is a great team. We spend the most amount of time thinking about the founders and the early team before investing"
The team slide in Sensorfact's pitch deck serves as an excellent example of how to effectively present your team to potential investors. Beyond simply listing names and titles, the slide also highlights the key experiences of the management team and department heads. This provides valuable insights to investors, showcasing why this team is well-equipped to lead an innovative energy management platform.
By focusing on the team's expertise and experience, the pitch deck conveys the confidence and capability of the individuals behind the venture, reinforcing their potential to drive the company towards long-term success.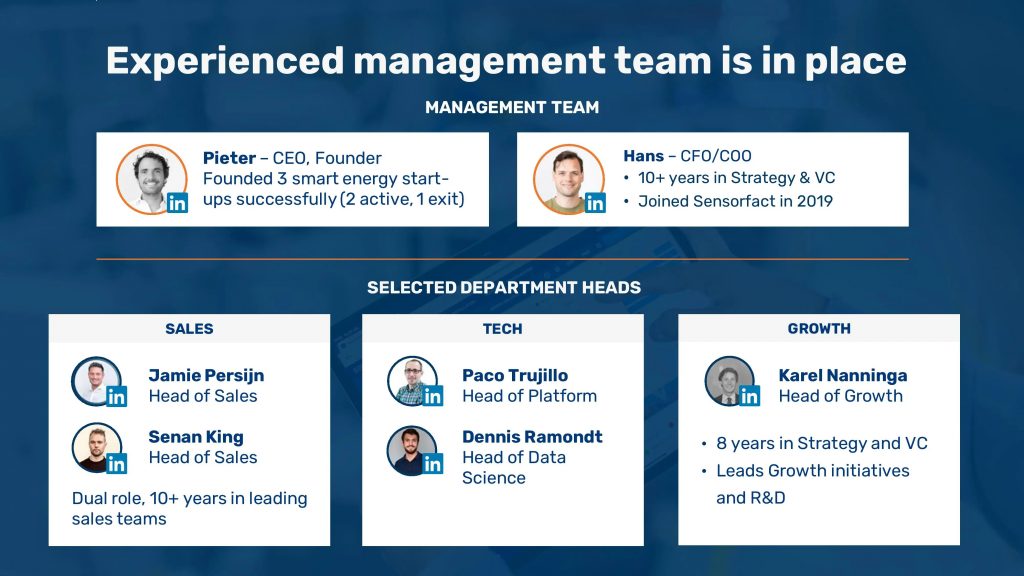 How-to create your own pitch deck like Sensorfact
We hope you learned something from the Sensorfact pitch deck, and that you are able to use these insights for your own business.  If you'd like to, you can bookmark it at bestpitchdeck.com/sensorfact
Although it probably goes without saying that having a successful business (outside just their pitch deck) was integral to their success, it is critical for any startup to ensure your vision is portrayed properly. That's where crafting the perfect pitch deck comes essential: 
You might find our other resources on how-to create a pitch deck helpful, or benefit from using one of our expert-designed templates:
Our team has helped create decks that have closed over $100M+ in deals & funding for leading startups and even VC firms. You can leverage this experience and get a jumpstart on your pitch with one of our easy-to-use presentation templates, one-pagers, or financial models.
Every pitch requires a unique approach tailored to its audience. Our team of experts has created pitch decks for different industries, as well as funding stages:
Software Pitch Deck — You might be interested in the popular software & SaaS Pitch Deck designed by our team of experts at VIP.graphics. This investor presentation template is built specifically for startups specializing in Software and SaaS sector.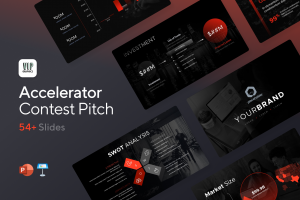 Accelerator Pitch Deck Template — The Accelerator Pitch Deck template was crafted for early-stage founders seeking to win funding &/or investment from pitch contests, accelerators, incubators, and angels or VC firms. Winning a pitch contest or being accepted to a prominent accelerator program requires a unique strategic approach to an investor pitch presentation.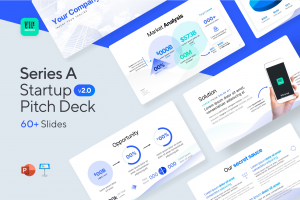 Series A Pitch Deck Template — A pitch deck template for startups and founders raising funding: Smart, actionable slides that work. This is a pitch deck template built specifically for startups, entrepreneurs and founders raising their first seed or Series A round of institutional capital.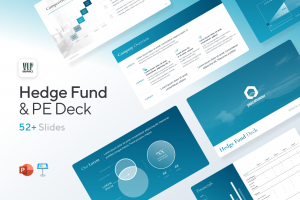 Mergers & Acquisitions Pitch Deck Template — Perfect Pitch Deck™ is a template crafted for later-stage businesses entering more sophisticated discussions such as mergers & acquisitions (M&A), late-stage investment (Series C+), or other partnerships & financing opportunities. Our team of experts created this presentation to empower founders to present with confidence to investment banks, private equity (PE) groups, and/or hedge funds (and vice versa).