Upflex is an innovative SaaS on-demand platform that allows companies and employees to find and book flexible workplaces seamlessly and instantly. The company has a network of over 4,000 coworking and other flexible office spaces: users can access Upflex's mobile app to book desks while working individually, or meeting rooms to work in teams.
"The flex-office market has hundreds of players and is so fragmented and inefficient that employers struggle to get their far-flung employees the space they need" Christophe Garnier, CEO of Upflex said. "In order to power the future of work, we need to get the three actors — employers, flex-space providers, and brokers — working efficiently together. It shouldn't take three months to create a flex work plan."
According to the CEO, the company began as Spark Labs in 2013 as a co-working space with the intention of serving as a key incubator for European tech entrepreneurs looking to expand into the United States.
Spark Labs expanded from two locations to a global network of 150 places. After realizing how important it is for employees, especially today, to have access to flexibility and finding the appropriate co-founder Ginger Dhaliwal, the pair decided to launch Upflex.
COVID-19 was disastrous for many industries, but the outcome is quite different for coworking spaces.
"People wanted flexibility even before the pandemic, so companies had to give the optionality for their employees," Garnier said. "But the pandemic accelerated that in a very, very big way, maybe by three to five years."
Upflex announced they raised a $30m Series A funding round in May 2022. The round, which brings total funds raised to date to $34.1m, was led by WeWork with participation from strategic investors Newmark and Cushman & Wakefield as well as returning investor Ecosystem Integrity Fund, and GPO Fund, Coelius Capital, Industry Ventures, Inertia Ventures, Perennial Private Investments, and Silicon Valley Bank.
"We're excited and humbled to partner with global leaders in commercial real estate and top proptech investors who bring the market expertise and the financial backing that is needed to further our growth," said Christophe Garnier, CEO & Co-Founder of Upflex. "We plan to leverage the funds to expand our market-leading technology and team as we continue to cement ourselves as the backbone of the flex industry, setting the standard for what today's employers and employees seek in the workplace."
In addition to funding, the company also entered into a strategic and exclusive partnership with WeWork in February 2022 which increased Upflex's global network to over 6,000 bookable locations spanning 80 countries, 900 cities, and growing.
"We are pleased to invest in and partner with the great team at Upflex, whose vast network of flexible office locations and offerings are a strong addition to WeWork's portfolio," WeWork Chief Executive Sandeep Mathrani said in a statement. "As we look to the future of work, this partnership will not only drive more value in our own product offerings for WeWork members but also promote a more innovative and collaborative flex ecosystem that is continually thinkingaa of new ways to better serve the workforce."
Here's a look at the pitch deck that was used to raise $30M in funding for Upflex:
Browse the exact example slides from the pitch deck that Upflex used to secure $30 million in a round led by WeWork, Newmark and Cushman, & Wakefield.
1. Cover Slide
First impressions are the most important. No matter how many times you meet someone, they will always remember the initial impression you made on them. Studies have also shown that people tend to recall the first and final items on a list the most (Recency and Primacy Effects). A visually appealing cover slide can pique your audience's interest and enhance engagement with the content you're presenting.
Cover slides don't have to be complicated. Upflex's simple yet stunning cover slide is an exemplar of minimalism, demonstrating how all you need is a logo, a catchy tagline, and product images. Nothing beats seeing your actual product in-action, and images are indeed worth a thousand words. This standard formula has all the elements need to create an engaging cover slide without overcomplicating.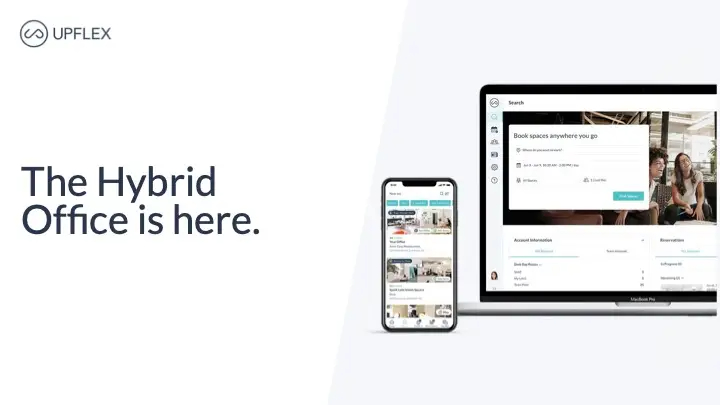 2. Opportunity Slide
One of the primary purposes of a well-crafted pitch deck is to convince investors why now is the best time to invest in their company. This includes explaining why this business couldn't or didn't exist 50 years ago. The opportunity slide from the Upflex pitch deck illustrates how "work has changed" by citing various research studies & notable statistics. The bottom of the slide supplements this with a list of several well-known companies that have implemented a permanent remote work policy since COVID. With a combination of precise copywriting, modern iconography, typographic hierarch and citations, this well-designed slide does an excellent job of establishing the case for remote work.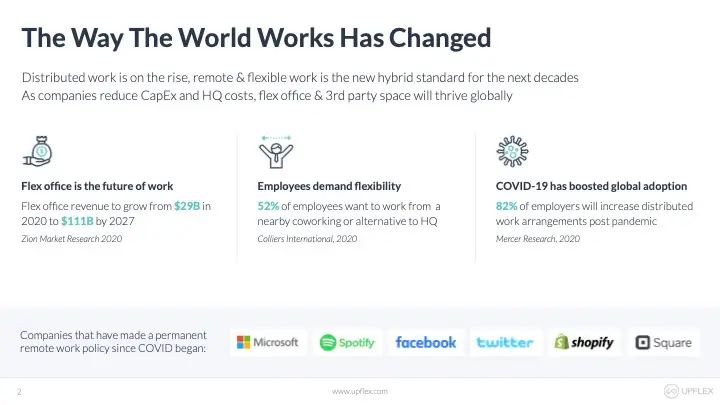 3. Team Slide
The team is one of the most crucial things that will allow a startup to grow. A startup is nothing without the people who work behind the scenes, helping to navigate the business through various challenges and realize the startup goals. Investors are well aware of the team's importance for any business, and as a result, many believe this has a big part in determining funding decisions. 
Investors highly appreciate a team that has the right & relevant experience and the Upflex team slide addresses this directly. Positing that their "dedicated team is comprised of experienced entrepreneurs with vast real estate, coworking, B2B, & SaaS expertise," this slide includes a succinct but detailed bullets detailing each of the key members' experience. Like most team slides, this page includes all the same standard elements: photos, titles, and relevant experience.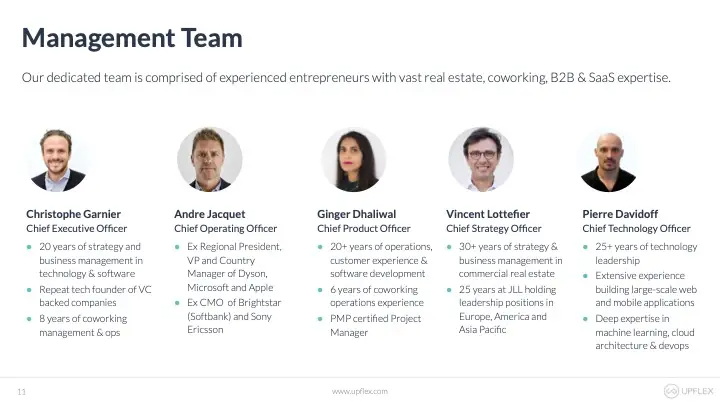 How-to create your own pitch deck like Upflex
We hope you learned something from the Upflex pitch deck, and that you are able to use these insights for your own business.  If you'd like to, you can bookmark it at bestpitchdeck.com/upflex
Although it probably goes without saying that having a successful business (outside just their pitch deck) was integral to their success, it is critical for any startup to ensure your vision is portrayed properly. That's where crafting the perfect pitch deck comes essential: 
You might find our other resources on how-to create a pitch deck helpful, or benefit from using one of our expert-designed templates:
Our team has helped create decks that have closed over $100M+ in deals & funding for leading startups and even VC firms. You can leverage this experience and get a jumpstart on your pitch with one of our easy-to-use presentation templates, one-pagers, or financial models.
Every pitch requires a unique approach tailored to its audience. Our team of experts has created pitch decks for different industries, as well as funding stages: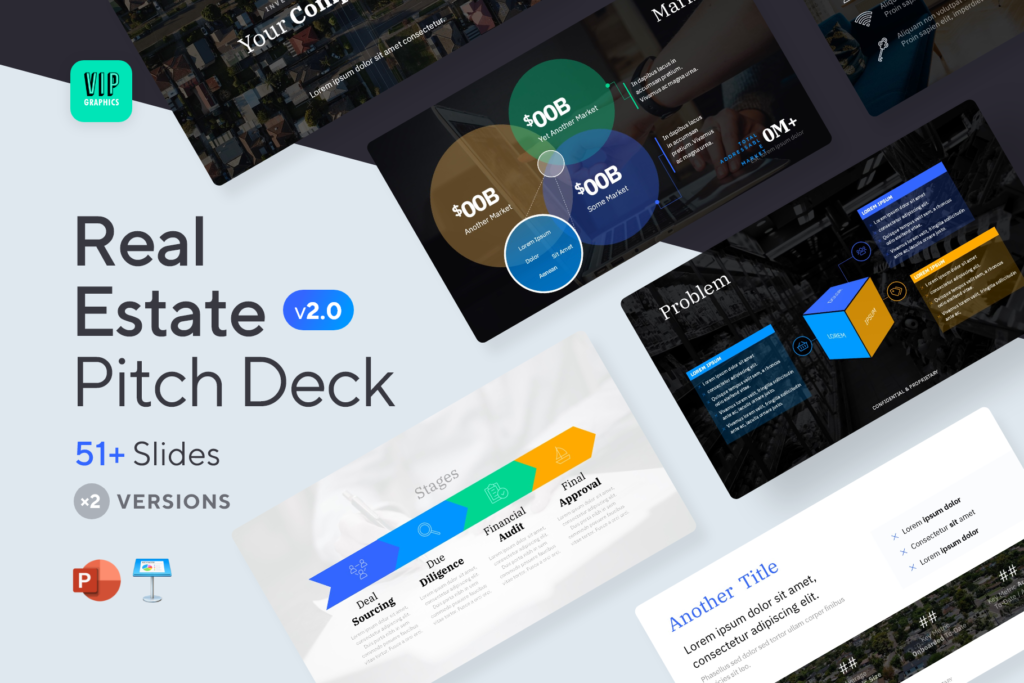 Real Estate – Pitch Deck Template — You might be interested in the all-new Real Estate Pitch Deck designed by our team of experts at VIP.graphics: cutting-edge slides based on decks that closed over $100M. This easy-to-edit PowerPoint template is perfect for any business in the sustainability industry (ie. recycling, eco-friendly suppliers, carbon offsetting, green services, & more).
Software Pitch Deck Template — You might be interested in the popular Software & SaaS Pitch Deck designed by our team of experts at VIP.graphics: cutting-edge slides based on decks that closed millions in deals & funding. This template is perfect for any business in the tech space: from software to services.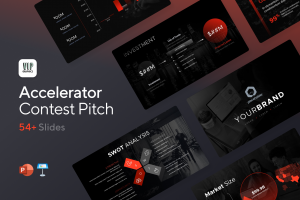 Accelerator Pitch Deck Template — The Accelerator Pitch Deck template was crafted for early-stage founders seeking to win funding &/or investment from pitch contests, accelerators, incubators, and angels or VC firms. Winning a pitch contest or being accepted to a prominent accelerator program requires a unique strategic approach to an investor pitch presentation.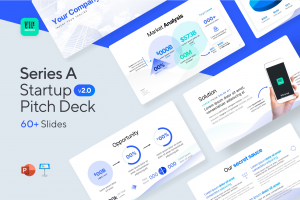 Series A Pitch Deck Template — A pitch deck template for startups and founders raising funding: Smart, actionable slides that work. This is a pitch deck template built specifically for startups, entrepreneurs and founders raising their first seed or Series A round of institutional capital.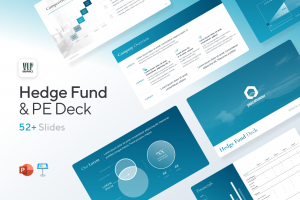 Mergers & Acquisitions Pitch Deck Template — Perfect Pitch Deck™ is a template crafted for later-stage businesses entering more sophisticated discussions such as mergers & acquisitions (M&A), late-stage investment (Series C+), or other partnerships & financing opportunities. Our team of experts created this presentation to empower founders to present with confidence to investment banks, private equity (PE) groups, and/or hedge funds (and vice versa).