VidMob is an advertisement-tech platform that provides a marketplace that connects creators and advertisers, as well as machine learning tools that assess how specific types of ads can be optimized. The AI tool developed by the US-based company specifically measures the performance of marketing creative (for example, spoken and written words on the screen, fonts, objects in backgrounds, emotions displayed by actors, and more), allowing marketers to optimize ad design for more effective and influential campaigns.
"VidMob was born really for two reasons. First, it was obvious that as channels fragmented and media types became more complicated […]. And second, we believed that the rise of ML-driven technologies like computer vision were going to open up a new field of first-party data, Creative Intelligence, that actually addressed the 'why' behind creative performance." – CEO Alex Collmer explained in an interview with MarTech Series.
Apple's App Tracking Transparency update, released in April 2021, shook the advertising industry: this update makes it more difficult for advertisers to accurately target and measure their ad campaigns and makes it more difficult for publishers to monetize their apps. With the deprecation of third-party cookies continuing to loom over marketers' heads, marketers look ahead using some innovative methods to adjust to a post-cookie environment.
Alex believes that "We've all become over-reliant on targeting". Optimizing creative instead of media is the solution, he explains: "In a world where we could count on only showing our ads to perfect customers, then creative really could be an afterthought. And it has been, both for marketers and investors, for a long time. Into this environment comes new technology enabling Intelligent Creative, and the most forward-thinking marketers are already experiencing performance increases in the hundreds of percent."
VidMob demonstrated how machine learning could be used to better optimize creative with their partnership with the Ad Council, the American Foundation for Suicide Prevention, and The Jed Foundation. The company produced the 'Seize the Awkward' campaign to get young people talking about mental health. Using AI to analyze the elements that resonated best with audiences on each social platform, the campaign expanded its engagement, and shifting the messaging on TikTok from "Are you OK?" to "You good?" resulted in a 112% increase in click-through rate.
The company has nearly tripled its headcount to 350 people in the last year and is on track to double its annual gross bookings and revenue in 2022. The company has also made some high-profile recruitments: Carreo joins VidMob in Dublin from Google, Scott Hannan brings experience from platforms like Facebook and Pinterest, and former leader of Facebook's North American Scaled Accounts Matty de Castro will spearhead mid-market and growing client business.
This growth has led to a $110 million Series D round led by Shamrock Capital and included new investors eGateway Capital Advisors and venture-capital firm Proof. Existing investors including ID Funds and Drive by DraftKings also participated in the round. VidMob has now raised $210 million and is valued at close to $500 million.
VidMob intends to use the new funding to assist in the development of a platform that will assist businesses in centralizing creative activities and providing data-informed creative in paid advertising and other areas, such as emails or product detail pages on commerce sites.
"We aim to grow business by investing in areas such as e-commerce; providing marketers with a way to tie creative content in ads to online sales. Further international expansion is also in the works, including in Europe, the Middle East, Africa, and Asia and the company plans to hire more salespeople as it targets clients beyond the largest marketers". – said Lisa Haskins, Irish director of International Marketing and Operations for VidMob.
Here's a look at the pitch deck that was used to raise $110M in a Series D round led by Shamrock Partners.
Browse the exact example slides from the pitch deck that VidMob used to raise $110M.
1. Cover Slide
As a presenter, you have approximately 10 to 15 seconds to capture the attention of potential investors and create a positive perception about yourself and your startup; the cover slide is your first & best opportunity to achieve this. In addition to capturing attention, establishing your credibility up front gives you the best shot of getting an investment.
Boost VC founder Adam Draper explains it this way: "Tell me the sexy stuff up front. Do you have an all-star team? Do you have traction that makes a hockey stick? Did you cure cancer? Get the attention of the investor early, and you should be able to keep it for the rest of the meeting."
The VidMob pitch deck's cover slide captures the attention and demonstrates credibility by showcasing their Fortune 500 clientele. As an added bonus, the slide also highlights a few awards it has received. On the design side, the slide (and pitch deck) follow the company's branding guidelines closely and keep things simple and well-organized.  VidMob's cover slide is one of the very best we have ever seen among 800+ example pitch decks.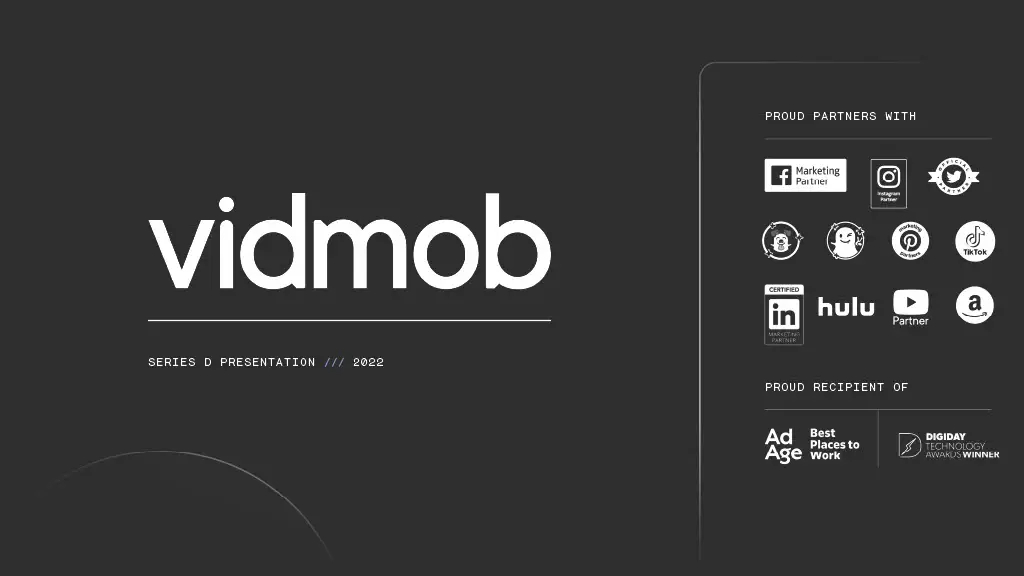 2. Opportunity Slide
The primary purpose of a pitch deck is to persuade investors that now is the best time to invest in your business. In order for this to happen, your pitch must proactively answer the "why now?" question. This slide should provide context for the business case and explain what has changed with respect to technology, consumer behavior, or other factors that make this business opportunity timely.
The VidMob pitch deck's opportunity slide argues that 'everyone is looking for a solution" to creative optimization. The slide then goes on to explain various factors that have contributed to market and technological shifts.
The slide delivers a well-structured presentation of all the information with a well-chosen layout for reducing visual clutter & guiding the reader's eye. The slide also reserves the use of light colors on dark backgrounds for headings & keywords, since black backgrounds can be less readable for some people.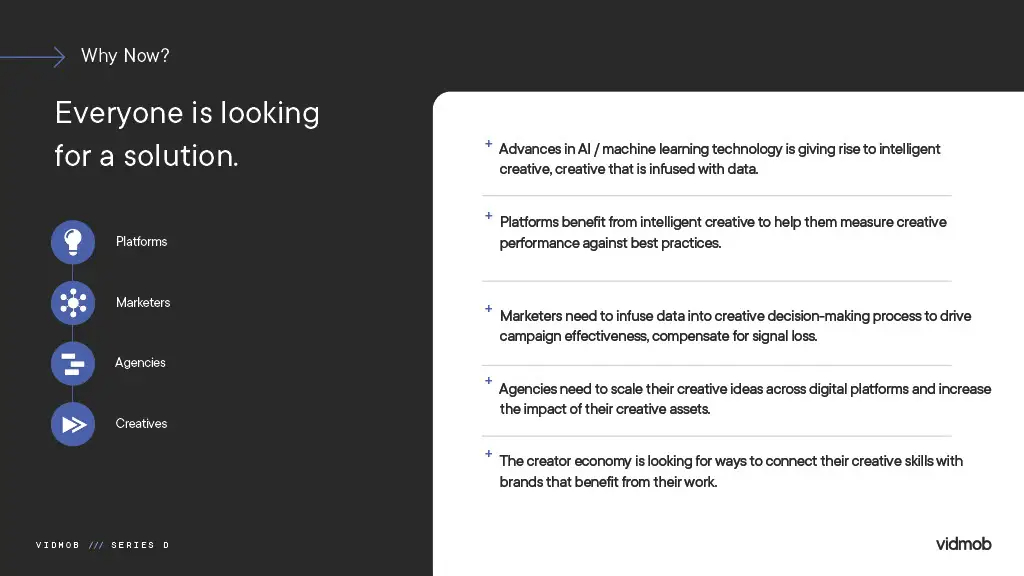 3. Traction Slide
Traction is arguably the most important factor which determines whether your idea will be backed by investors or not. You can have the craziest idea or product in the world, but if you can back it up with serious traction, you can significantly increase your chance of securing funding. 
If there's one thing VidMob doesn't lack, it's traction: it is the only company in the world to receive a certified creative marketing partner badge from every major social and digital platform and its client roster includes ByteDance Ltd.'s TikTok, Snap Inc., Facebook, Instagram, L'Oreal, Johnson & Johnson, Anheuser-Busch InBev, and others. 
That said, the VidMob pitch deck's traction slide is as simple as it can get: the page only consists of logos of the company's customers and a simple heading. This is enough for investors to understand VidMob's value proposition, esp. given the sheer number of marquee brands they have worked with.
How-to create your own pitch deck like VidMob
We hope you learned something from VidMob pitch deck, and that you are able to use these insights for your own business.  If you'd like to, you can bookmark it at bestpitchdeck.com/vidmob
Although it probably goes without saying that having a successful business (outside just their pitch deck) was integral to their success, it is critical for any startup to ensure your vision is portrayed properly. That's where crafting the perfect pitch deck comes essential: 
You might find our other resources on how-to create a pitch deck helpful, or benefit from using one of our expert-designed templates:
Our team has helped create decks that have closed over $100M+ in deals & funding for leading startups and even VC firms. You can leverage this experience and get a jumpstart on your pitch with one of our easy-to-use presentation templates, one-pagers, or financial models.
Every pitch requires a unique approach tailored to its audience. Our team of experts has created pitch decks for different industries, as well as funding stages:
Software Pitch Deck Template — You might be interested in the popular Software & SaaS Pitch Deck designed by our team of experts at VIP.graphics: cutting-edge slides based on decks that closed millions in deals & funding. This template is perfect for any business in the tech space: from software to services.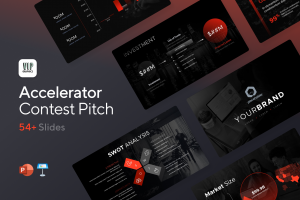 Accelerator Pitch Deck Template — The Accelerator Pitch Deck template was crafted for early-stage founders seeking to win funding &/or investment from pitch contests, accelerators, incubators, and angels or VC firms. Winning a pitch contest or being accepted to a prominent accelerator program requires a unique strategic approach to an investor pitch presentation.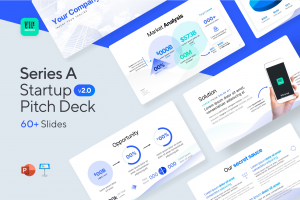 Series A Pitch Deck Template — A pitch deck template for startups and founders raising funding: Smart, actionable slides that work. This is a pitch deck template built specifically for startups, entrepreneurs and founders raising their first seed or Series A round of institutional capital.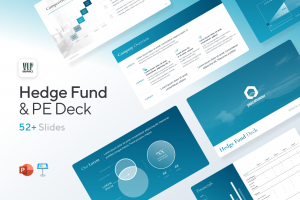 Mergers & Acquisitions Pitch Deck Template — Perfect Pitch Deck™ is a template crafted for later-stage businesses entering more sophisticated discussions such as mergers & acquisitions (M&A), late-stage investment (Series C+), or other partnerships & financing opportunities. Our team of experts created this presentation to empower founders to present with confidence to investment banks, private equity (PE) groups, and/or hedge funds (and vice versa).